A Senior Moment
What happened to our favorite Aussie from Horsham? Really that's his hometown. I'm sure middle school kids delighted in yelling that as much as the BearMeat editorial board at our morning bull sessions. Although recently since I can't find Red and Pat, I just sit by myself and scream at our newest interns manically until they start crying and then I make them change my diapers. I'm tough but fair.
Whhhhoooreee-Shammmmm, Whhhoooreee-Shammmmmmmmmmmm. Most of you are probably too young to remember this, but I'm pretty sure Aaron Bruce was the freshman of the year in the Big 12 back in 2005. He was supposed to be the foundation of a brighter future for a wounded program.
Bruce has done some great things during his run at the B. I don't want to knock him too much, but his decision making in the last two games in critical moments has been atrocious. When he called the timeout against Texas I was beside myself with indignation. Just moments earlier in a drunken stupor I had noticed that Baylor was without a timeout. I assume the Emu was sober, as well as Scottie. The coach has to make sure his players are aware of the timeout situation in the last huddle. Either Scott pooped himself or Bruce forgot. Bruce is the only senior who plays significant minutes. He shouldn't make that mistake. I'll grant you Baylor still had a chance to win, but it didn't help matters and should have never happened.
Then Bruce decides that with Baylor up three against Oklahoma on the road he is going to desperately lunge at a three point shooter and allow them to get a four point play. Every week in the NBA and college ball the announcers remind the audience don't foul a three point shooter. Everyone knows this. If Oklahoma hits the three the game is still tied. Once again I concede Baylor had its chances, but what was Aaron thinking, "If we win this I might have play in late March instead of poontanging at South Padre."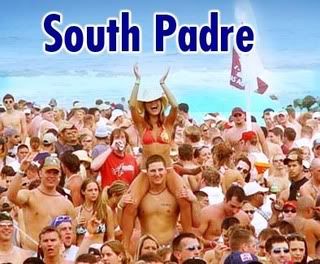 Bruce in March from 2005-2007.
I don't blame Bruce solely. This really is a coaching failure. Teams take on the personality of their coach. Drew has a little too much, "Golly Gee Willakers we tried real hard and almost won. Darn, oh well, we'll get them next time." Have you ever listened to Drew explain a loss? Despite the fact that he should be an expert on the subject it is always these broad generalities about what went wrong. He always seems a little bewildered that they lost another game. "We looked slow, our defense wasn't doing a good job, I wasn't sure that developing a post game was legal". Compare that to Mulk. On the rare occasion she loses she goes over the exact problem. She explains the precise breakdown and you know she is already trying to figure out what to change for the next game and the the tournament. It's like she already broke down the tape, but she can do it immediately as she is leaving the court.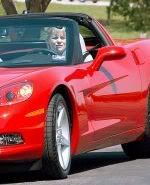 Of course she drives a Corvette.
Can Drew develop the ability to be a game day coach and turn our big men into something useful? He certainly couldn't when he got here and I don't believe he is now. I'd like to think of Drew's run at Baylor as the most generous and frustrating on the job training program since W's presidency. He does seem to be a solid recruiter. Maybe he can get the talent level up enough that they can overcome his shortcomings and learn enough along the way. I'm not sure that is possible, but maybe. I think how Baylor ends this season is a critical stretch in Drew's tenure. Will he get it done? If Baylor implodes and doesn't make it to the post-season I think we need to ask ourselves about our expectations. I hope Drew proves me wrong, but I'm not counting on it.
Now fadeaway behind the 3 point line.
Labels: Aaron "The Emu" Bruce, Gentlemen Bears Hoops, Scott Drew