Your Daily Green 'n' Golden Nugget
Here ye, here ye, here ye! The following notice is an important update regarding the "What happened to Grandpa?" Sweepstakes.
Let it be known that on this fine Thursday afternoon at approximately 2:30 in the afternoon, the BearMeat SportsBook located in the southwest corner of the 13th floor of the Alico Building will be updating its odds board. Newly
uncovered
information straight from the mouth of offensive coordinator Lee "Sniper" Hays has forced our crack staff of interns to change the betting odds on why Mike Machen was unavailable for the first half of the season.
On Mike becoming the new QB

:
"Mike has always been an option in rain or bad weather because he can wrap his whole hand around my head."
And that's a big freaking head, folks. So what does this mean for the boards? Well it very much drops the odds of Machen having gonorrhea from 5/2 all the way to 7/1. We are now convinced that "Grandpa" Machen suffers from Acromegaly. The same disease that brought down "The Eighth Wonder of the World" aka Andrè the Giant.
Let's compare.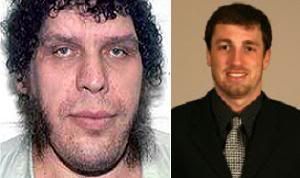 The Baltimore Orioles will ruin your life.
Ok, so let's get today's final board up for you to place your wagers. BearBucks and the Sudanese Dinar will not be accepted as their current inflation rates render them useless; however, K-State Cat Cash Cards are permissible due to our upcoming trip up the the Little Apple. Feel free to chime in if you have any insider info.
Acromegaly - 3/2
Gonorrhea - 7/1
King GuyMo - 20/1
Mobile, AL - 35/1
Gout - 80/1
Labels: Football