The Round Up: No Gotham Bowl Gems
Hoping to follow up our Gotham Bowl coverage with some tidbits from the Baylor Round Up from that year, we sent an intern (
Gunder Thorson
, that poor bastard) into the BearMeat Library to retrieve the 1961-62 edition of the Baylor Round Up (our annual). The coverage of the Gotham Bowl included no fanfare or photos, so we were a bit disappointed. However, Gunder did point out a few photos worth sharing with our readers. Thanks to
DiscoTech!'s Bond J. Bond for this idea
. Look for our in-depth conversation with DiscoTech! on BearMeat tomorrow.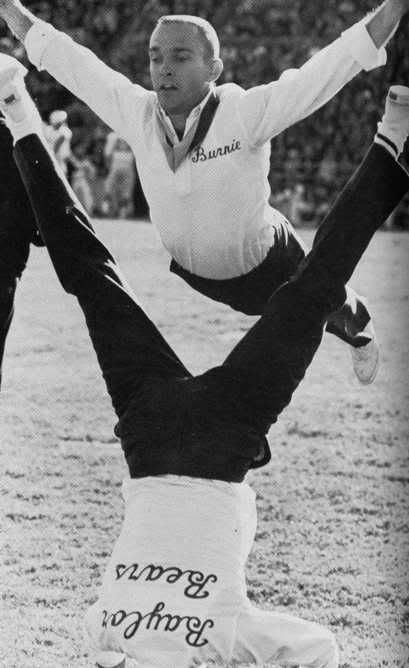 Just Two Red-Blooded Baylor Boys Doing Manly Things
The Baylor Bruin Havin' a DP. Must have been 10, 2 or 4
Gunder, hoping not to disappoint us too badly, then pulled out the yearbook from 1949, which featured Baylor's first bowl game, the Dixie Bowl! It featured the Baptists of Baylor University against the Baptists of Wake Forrest. It yielded a few hilarious cartoons. Enjoy!
The Battle of the Baptists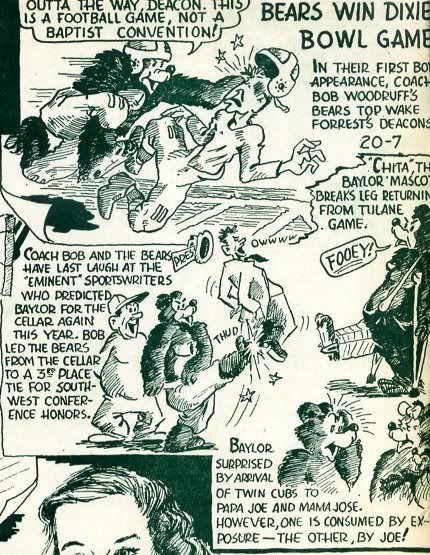 What's Up With The Mascot Casualties and Fatalities?
Labels: Gunder Thorson