Rearranging Deck Chairs on the Titanic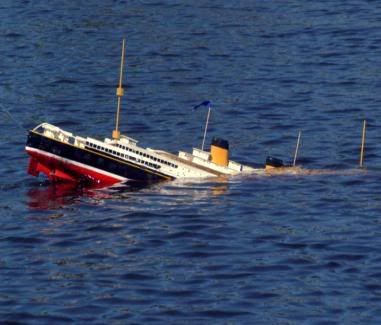 The S.S. GuyMo: Full Speed Ahead!
Amidst Baylor Lariat sports editor
Will Parchman's call for GuyMo's head
, and the persistent booing by the Bear faithful at home games, GuyMo is entertaining the idea of giving singer-songwriter (
seriously
) walk-on QB Ryan Roberts
the nod for the game against Texas
, which is a great idea considering that is an excellent opportunity to let an untested QB lead a team over a cliff. Nothing quite like throwing your small child to the wolves when at least your older children are armed with knives. GuyMo possesses the rare ability to turn a bad situation into a worse situation. When life gives you lemons, throw the lemons away. Not happy with your pre-season QB situation? Why not keep your team, coaches, fans and alumni guessing until the season opener? That way, everyone will be extremely confident with your choice, since it was such a long, deliberative process.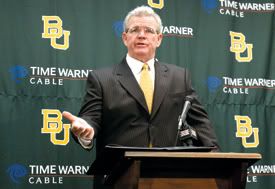 GuyMo: "I am the Decider. Blizzle, out. Roberts, in."
Not happy with the way your QB is playing before the toughest game on your schedule? Why not give the only QB on your roster that no one has heard of (and who was not among the 4 QBs in contention for the starting spot) a chance to prove his worth in the game that used to be a rivalry, but has turned into ritualized slaughter? Of course, we could go on and on like this, but why don't we just let Will Parchman take it from here:
Morriss has had five years to recruit, build and mold. His recruiting classes are still mired in the nation's bottom half. His average recruiting class since his arrival is 79th out of 119 D-I schools. Call it the Baylor factor, but any school should expect better than that, let alone a BCS school. His inability to recruit quarterbacks has been the scariest part. No Morriss-recruited quarterback has ever won a Big 12 game. Following Baylor's loss under the lightning Saturday to Kansas, Blake Szymanski is 0-6 as a starter in Big 12 games and last Saturday's 20-point blowout to Colorado was the closest he's ever come to winning one. That's why it appears this Morriss-built program has reached a disappointing plateau. This team is five years in the making. Where is the progress?
Labels: BevoMeat (Texas)