An Open Letter to the Citizens of Waco
[What follows is Red Andrews sincere plea to his fellow Wacoans and is not a work of satire. -Eds.]

The proposed statue of the 70 foot tall Texas Ranger located on the banks of the Brazos at I-35 will be detrimental to Waco's reputation and economy, further linking the popular (and wrong-headed) notion that Waco is truly "wacko."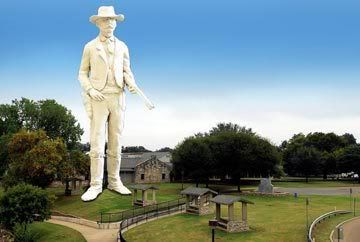 Big Tex 2.0: "Welcome to Crazy Town, Texas!"
The first problem with this statue is its size and location and what that will mean. Most people encounter our city not through the media, but passing through on I-35. While the proponents of this idea believe that is precisely why the statue would be perfect, I contend that this will only solidify the perception of Waco as eccentrically rooted in the past and prone to violence. For those of us who spend time trying to convince others that Waco is not a strange place, but possesses enormous assets and is actually a great place to live, this statue will be an irrefutable counter-argument. The City of Waco and Waco Chamber have been working hard to counter these negative perceptions of Waco by re-branding Waco as a modern city not out of step with the mainstream. The Waco We Do campaign and the Downtown Waco revitalization projects would both be threatened by this statue. Will businesses really consider locating to Waco if, when their executives are driven in from the airport, they are baffled by the presence of a 70 foot cowboy?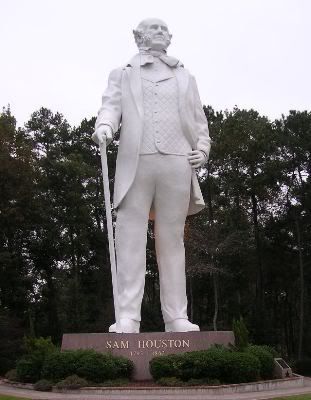 Huntsville's Houston: How City Council Envisions Big Tex 2.0
Secondly, this statue will dwarf the positive landmarks along I-35 and will lay exclusive claim to being the symbol of Waco. Currently, when driving through Waco, one sees the spires of Baylor University and the ALICO building. Neither of these suggest that Waco is a "wild" or "untamed" place as does a statue of a man with a gun. The Texas Ranger Museum and Hall of Fame is a great asset for this city and it has helped to contribute to the tourist economy in Waco. However, the Texas Ranger Museum should not lay exclusive claim to our city's identity. If the statue were reduced to 20 to 30 feet high it would not be such a potent symbol of our city. While we are proud of the Texas Rangers, they do not define who we are, nor should a 70 foot statue be erected to celebrate their museum here. By this logic, we should have a 70 foot high statue of Michael Johnson outside the Texas Sports Hall of Fame or a 70 foot high statue of a Mammoth outside the Discovery Center. This statue will be more than an attraction; it will be a symbol of our city.
Monroe, Ohio's Jesus: How Big Tex 2.0 Will Be Perceived
Finally, while the Texas Rangers are an institution that we all can be proud of, their mixed legacy (to put it lightly) of abuses against the African American and Mexican American communities in Texas, does not seem to fit with a city whose non-white population is 50%. The 70 foot statue of Sam Houston is not located in downtown Huntsville. That statue is an embodiment of the spirit of Huntsville, since he lived there and made it his home. A statue right downtown of an abstract, generalized Texas Ranger serves no civic purpose besides attracting visitors off the highway out of sheer disbelief.
Exactly the type of shame and parody this will invite


The Texas Ranger as a general symbol is not who Waco is and a 70 foot statue of a Texas Ranger is an impediment to where this city is going. I would ask that the citizens of Waco contact the City Council members and the Texas Ranger Museum to oppose this idea.


Sincerely,

Red Andrews
Senior Editor, BearMeat
Waco Resident and Baylor alumni
Email: President.Andrews@gmail.com

Labels: Waco, Wacofabulous