Grant Teaff Speaks: The Em Zone Interview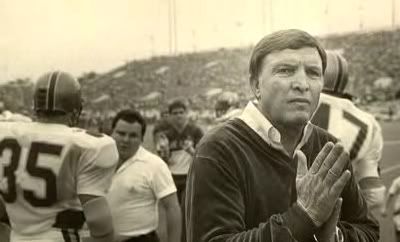 "Give me wisdom and knowledge, that I may lead this people, for who is able to govern this great people of yours?" 2 Chronicles 1:10
The Em Zone just went from being a light-hearted romp into the heart of Baylor football culture to a Pulitzer-quality journalistic endeavor. Emily Ingram's interview of Grant Teaff is NOT TO BE MISSED, if you give a damn at all about Baylor football.
Here is the link to the interview
(Part 1, so far!).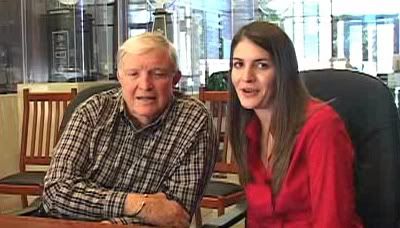 The Coach & The Hearthrob
Coach Teaff opens up on how he became the coach at Baylor, how low the expectations were ("Don't embarass us") and how pitiful the facilities were. Before Teaff came to The B, football was in a sorry state of affairs. Just like today. Perhaps all we need is that one man, who refuses to accept defeat and keeps pushing his team until they win. Teaff also reveals his difficult emotional struggle with watching Baylor lose so badly since the mid-1990s. Teaff on Baylor's losing seasons: "Do I hurt? Yes. Is it sometims embarrasing? Extremely."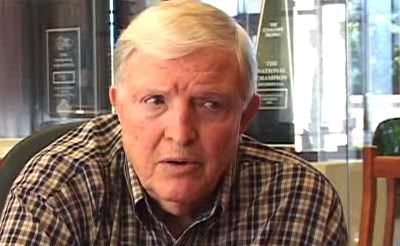 "My Goals are alot higher than that."
Congratulations to Trib reporter Emily Ingram, for landing and conducting a timely interview with a living legend. God bless Baylor. Sic 'em, Bears!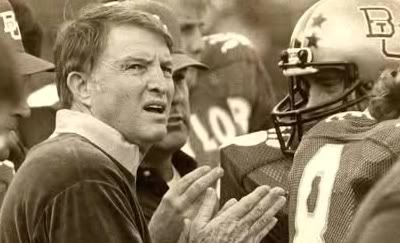 "When the righteous triumph, there is great elation." Proverbs 28:12
Labels: Emily Ingram, Grant Teaff