The Ghost of Kevin Steele Speaks
[Late in the evening on Saturday, October 6th, the ghost of former Baylor head football coach Kevin Steele visited the 13th floor of the ALICO Building, where the BearMeat editorial offices are housed. The ghost appeared to the three editors and several interns who had donned sackcloth and ashes. The weeping, wailing and gnashing of teeth from the ALICO could be heard from as far away as Hewitt. The whiskey-addled editors began hurling empty bottles and cigarette butts at the ghost, who proceeded to give the following speech. - Eds.]
The Undead Ghost of Kevin Steele
"Silence, you self-important fools! Do you not know that I have placed a curse on your beloved Bears? My time at Baylor was deeply humiliating - I was set up by Robert Sloan and sandbagged by Tom Stanton. I was mocked for my vegetarianism, my loafers, and my tears in chapel. I was ridiculed for my decision to not to take a knee against UNLV. I was castigated and defamed for representing the nadir of Baylor football in the Big12 era. Had Sloan and the 2012ers been willing to invest in our program instead of trying to build a Notre Dame on the Brazos sans pigskin, perhaps I could have had a chance."
The Good Judge chucked a Kim Mulkey bobble-head doll at the ghost and exclaimed, "Damn, you Steele, you emasculated us! You deprived us of every ounce of competitive spirit and reduced us to polishing turds and praising the Lord that we didn't lose by 40 to Kansas."
"Watch your tongue, you old codger," Steele quipped, "I have coached at far better places than Baylor University, both in college and the pros. Never have I seen such a rare combination of self-delusion and unrealistic expectations - and I currently coach at Alabama. Look not to me as the source of your current woes - no, look to GuyMo himself!"
"How dare you mention his name!" screamed the Guvn'r, "He beat A&M, something you couldn't even dream of doing!"
"He did it with my players, sir. My curse began this year, when the last of my legacy has departed your sorry school. Guy Morriss gave you four good years of competitive football and did so with my players. Now that he has his own guys, he is on his own. My ghost will haunt your program until the end of days," promised Steele.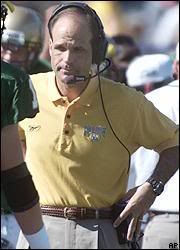 The Curse of Coach Steele
"If what you say is true, Coach, then your legacy is not four years of shame and suffering, but a century of losing and humiliation. But why?" queried the Prez.
"For how I was treated at Baylor - for all those who laughed at me and never gave me a chance, for Sloan and Schmeltekopf and Stanton. If you thought tonight's game was bad, wait until you play UT and OU. Then the real pain will begin."
"But coach, what can we do for you so that you will revoke this curse? Lord knows we already suffer from enough such curses on our school," the Guvn'r asked.
"Nothing. There is nothing you can do. The curse will remain at your school for all eternity."
With that, the ghost disappeared into the night air.
Labels: Kevin Steele