George Shelton: EM Zone Exclusive Interview
If you are a Baylor fan and don't know who George Shelton is, your life is a hollow lie. We covered this man in
one of our earlier posts
, but basically, this clip will tell you almost all you need to know, except that he is the father of former wide receiver and big-time player Trent Shelton.
The Personification of Baylor Pride
Well, after two lackluster EM Zones, BearMeat's favorite flirt-tastic crime beat reporter and BU alum, Emily Ingram, has come roaring back with a great episode focusing on Baylor football parents. Thank God George Shelton was in the crowd, and firing up the fans with his usual spirit. Here is the link for one of the best Em Zone's yet (hard to beat the Baylor Line episode for overall editing and great interviews).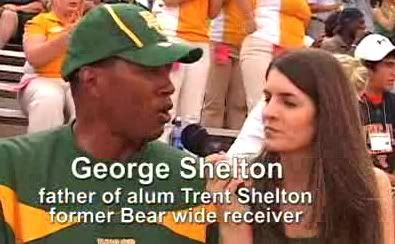 "I'm a Razorback guy [Arkansas], but don't get me wrong, I quickly changed to the Green & Gold once they signed Trent."
Labels: Emily Ingram, White Women