Bring Me the Head of . . . Guy Morriss?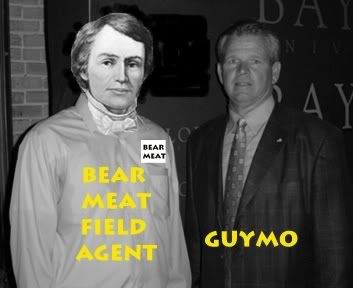 BearMeat Meets GuyMo - An Intern Photo-Op
Well, the absolutely pathetic performance of our Bears this year (three 400-yd passing games notwithstanding), combined with Schnupp's Sprinkle, may have accelerated GuyMo's termination by about a year. BearMeat has refused to weigh in on the issue, refusing to side with the Singletarians, the Anyone But Morriss crowd, or the Pollyannas/Theocons who are deeply invested in Morriss' tenure. However, the blowout losses to A&M, Colorado and Kansas indicate that the era of competitive GuyMo football is over, with no real prospects for the future. For the last year or more, the Singletarians have made a strong case, though he has no head coaching experience, let alone recruiting experience. If hired, Samurai Mike would have one giant turd to polish, which won't be hard considering our school's speciality is in shining up fecal matter until it shines like a diamond.
What got our attention today was the Dean of Texas Political Journalism, Paul Burka of Texas Monthly, has it on high authority that GuyMo is out and the Minister of Defense is in.
Here is the post on the TX Monthly sports blog
, Delay of Game, and here is what he had to say:
Wrong Guy
posted by Paul Burka at 11:50 PM
I heard this today from a well connected Baylor source: Football coach Guy Morriss is a goner. The new Baylor coach will be former Bears (Baylor and Chicago) standout Mike Singletary.


Oh yeah, don't we play Texas this week? I haven't heard of this team before. Do you think we might have a chance to rack up 400 meaningless yards against them? I sure need to do some research on just what type of strengths this program possesses.