Bear vs. Wildcat, Part 3: Farewell to a Season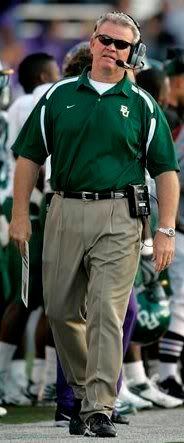 Presenting Johnny Tusa's future O-Line Coach
Last year BearMeat gave up on the season with three games to go. Shawn Bell was injured during a crucial 4th quarter possession in the 2006 Battle of the Brazos against A&M in front of the largest crowd in Floyd Casey history. The injury precluded our bowl hopes and the chance of winning another game. After that it was three games to go with Blizzle Szyzzle at the helm against Oklahoma, OSU, and Tech. The situation this season is eerily similar to last season, so we will have to order double our weekly shipment of Rebel Yell and call back our nubile interns from their Semester at Sea on Lake Waco. We will now delve deep into the pleasures of the flesh, awaiting the end of this season the way
Ted Nugent
awaits his annual M-16 hunt of "The Most Dangerous Game" in Cameron Park (usually an unlucky inmate from McLennan County Jail is the prey of The Great White Hunter).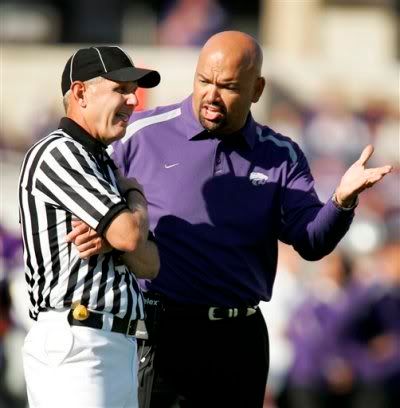 "Ref, can't we just call this game now, just like they used to in Little League? Show some mercy, for God's sake."
We could make jokes about how GuyMo put three different QBs in the game during the first half of play or about how Machen's senior leadership proved a bust, or about how Weed failed to take the Bears higher, or about how Blizzle Szyzzle regained his starting spot. We could make plenty of jokes, but we're sick of making jokes about how terrible our team is. Thank God Texas Tech (also reeling from humiliating defeats) is next week. We expect much love from Disco Tech!, Double T Nation and the Classless Clowns (who just don't give a damn). Other than that, expect a hell of a lot less football coverage and plenty of bitterness, despair and self-loathing.
We won't dignify this loss with a passage from the Scriptures. We will however leave you with an incredible WacoTrib Photo Gallery of a man who took a losing program and turned it into a conference champion.
Labels: WildCatMeat (Kansas State)