Bear vs. WildCat, Part 2: A Pair of Untamed WildCats
BearMeat is nothing if not a blog of memories and mammaries. Sometimes, an opponent is best sized up by a thorough analysis of their teats. Some of you (about 17) will recognize a few of the following photos from last year. If that is the case, you are entitled to the BearMeat HardMeat Award, for outstanding dedication to a blog of whimsy and satire in the face of the crushing weight of the world outside the internets. With that, we present the following three examples of WildCat Boobs!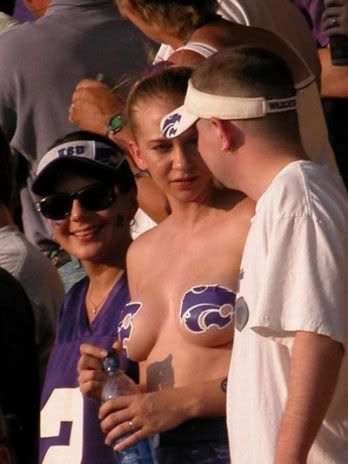 Two WildCats On the Loose in the Little Apple
K-State's Answer to Brock? A Poor Imitation Indeed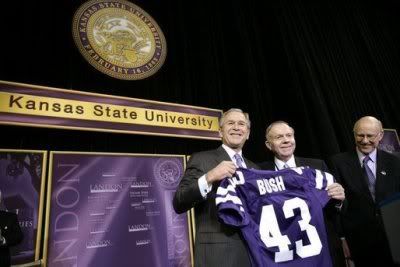 The First Boob: A Yale Cheerleader on Varsity?
If this post didn't quite satisfy your longing for satire, we point you to a few recent conversations we've had with other blogs, who interviewed BearMeat for a few chuckles and for the inevitable advertising revenue bump that such an interview generates.
Burnt Orange Nation Interview of BearMeat. Sample from the interview:
"Referring to the Baylor Running Game is like referring to Czechoslovakia - it is no longer in existence. Thanks to our new pass-happy offense (an offense which we don't have the talent or coaches to run effectively), the running game has been subject to starvation-level stats and felony-level neglect."
Bring on the Cats Interview of BearMeat. Sample from the interview:
"Wherever two or more college football fans are gathered, painting their chests and tanking up on booze before a game, Brock is in the midst of them. Wherever someone is pouring a bit too much Ranch dressing on his pizza, Brock is there. Wherever Baylor is getting blown out by a weak conference opponent, Brock is there. Wherever fans seek some shred of dignity and hope in a losing effort, Brock is there."
K-Stated (Wichita Eagle's KSU Blog) Essay by BearMeat. [Its now online. -Eds.] Sample from the essay:
"Lately our creed has been "Embrace the Absurdity" - revel in the bizarre twist of fate that has led us to the current state of affairs. No, we won't compete for a bowl any time soon, but our assistant coaches will add levity with their unique pub urination customs and zany Texas Tech-style offense."
Finally, how could we let an opportunity go by without giving a shoutout to the greatest K-State fan of them all; a man whose artistic vision puts him on the outer fringe of digital college football fandom, CHUM: The Michelangelo of the Little Apple. Here is a beautiful sample of his work from the critically-acclaimed CatLab Project (similar to Los Alamos, but a bit more explosive and ground-breaking). Enjoy.
The Power of CatLab
Labels: chum: the Michelangelo of the Little Apple, WildCatMeat (Kansas State)