Bear vs. WildCat, Part 1: Interview with Bring on the Cats
[We are pleased to share a recent interview with TB of Bring on the Cats as part of our game preview of the upcoming bout with the Kansas State Wildcats. TB's blog is one of the premiere Big12 blogs - updated frequently, great analysis, and hilarious coverage. We hope you enjoy our conversation as much as we did. Be sure to check out his blog for his interveiw of BearMeat. - Eds.]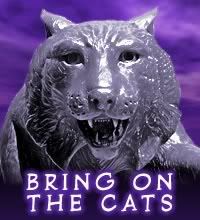 BearMeat: Chum's videos. What are your impressions of his work and how he is received as an artist in the Little Apple?
Bring on the Cats
: I haven't really watched many of the videos. The first few were, interesting, but then school started up for me and I didn't have time to keep up with all the new work out of the
Catlab
. I have to give Chum his due, he knows how to make YouTube videos, placing him far ahead of me in technological know-how. As for his reception in the Little Apple, I don't really know for sure, but nobody asked me about it in Aggieville two weeks ago. For the record, nobody asked me about
Bring On The Cats
, either.
Chum's latest: Play Like a What?
BM: The KU v KSU rivalry is getting good in both sports now. What are the primary differences in student culture and institutional identity between KSU and KU? (Is KSU the "Texas A&M" of Kansas? Is KU the UC-Berkeley?)
BOTC
: Relative to each other, K-State is the more Kansas-centric school, having a higher percentage of Kansas natives among its student population. In fact, if you discount Johnson County (KC suburb) which is only a quasi-Kansas entity, the gap widens further. At KU, you are probably more likely to meet someone from Chicago than someone from Cimarron, truly making it the flagship university of Kansas.
As to the K-State/A&M comparison, it's probably fairly accurate. I've said before that, minus a Corps of Cadets and about 25,000 students, K-State has a lot of A&M characteristics--remote location, emphasis on agricultural and engineering programs, great love for anyone whose last name is Bush, etc. (links
here
and
here
).
Now I may get in trouble for this, but KU is not the UC-Berkeley of Kansas. It's not the Wisconsin-Madison of Kansas. When it comes to crazy counterculture schools and their towns, KU/Lawrence can't even hold a candle to Texas/Austin. Sure, the town and its residents
fought against slavery
, but that was 150 years ago.
Portrait of the Blogger as a cross-eyed abolitionist
BM: What does it feel like to beat Texas two years in a row? Can you make it three years? How easy is it to give Colt McCoy a concussion?
BOTC
: As a Texas resident, beating UT two years in a row is a wonderful feeling, because no matter how bad the rest of the season goes--*cough/gag* losing to KU and Oklahoma State *cough/gag*--nobody in burnt orange can say anything to me. For those still living back in the promised land, it's probably muted because the only Texas fans they know are t-shirt fans who just latched on to the team with a steer as its mascot.
As for making it three years, I would say it's doubtful, but then again I thought it was doubtful we would win either of the games the last two years. By the time we play them again, Josh Freeman will have graduated and we'll be relying on Ron Prince's recruits and his assistant coaches' ability to get those recruits ready. No idea how well that's going to work.
BM: Ron Prince. Give your honest assessment.
BOTC
: Ron Prince has been a better hire than I ever thought he'd be. He's a good spokesman for our university and has turned around a program that was fast sinking toward irrelevancy, going 4-7 and 5-6 the two years before he took the helm. If he wins seven or eight games this year and puts us in a decent mid-tier bowl game, I will consider that decent progress given the difficulty of the schedule.
Now for the bad. He doesn't run the ball, even when it's working. That's not necessarily all bad if the passing game is working, but it doesn't lead to ball-control and exposes the defense to fatigue. He doesn't get consistent effort out of his team from week-to-week. He has lost to KU twice. That trend alone, if it continues, will ensure he won't be around very long.
Overall, I'm content for now. These teams are a lot more fun to watch than Bill Snyder's last two teams, but we all realize we're not back to 1998, or even 2003. We'd like to see that again.
"Wildcat" was written in an obsolete vernacular
BM: Josh Freeman. Give us your honest assessment.
BOTC
: Josh Freeman is growing up in front of our eyes. Last year, loyal denizens of the B saw Freeman's first real game action, and you could tell he was a fish out of water--or maybe a Wildcat out of Manhattan--when he tossed three terrible interceptions. Last weekend, he threw for 400+ yards and three touchdowns, his best game to date. He finally has more touchdown passes than interceptions on the year. His progression has gone from wide-eyed freshman to competent game-manager. Now he's moving toward difference-maker status, with games like he had last Saturday. It's time to start doing that against the better defenses, consistently.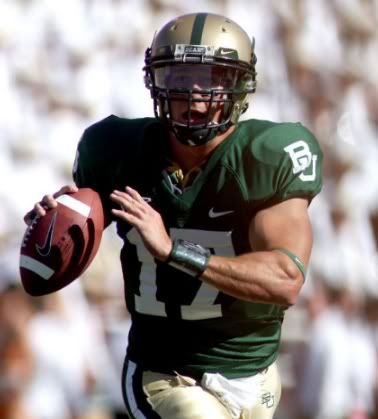 Weed: Freeman's "Country Cousin"
Oh, and GuyMo could probably take a page out of Ron Prince's book when it comes to choosing a quarterback. Instead of having a five-ring circus, just run off all the quarterbacks you don't want and stick with the one you do want. Hell (heck, sorry), it's worked so far!
Here's to a good game Saturday. Can't wait for my next trip to
lovely Waco
for the basketball showdown this winter. I'm sure I will be one among many of the national media descdending on the town on the Brazos for such a newsworthy event.
BU Football: "The horror, the horror . . . "
Labels: chum: the Michelangelo of the Little Apple, WildCatMeat (Kansas State)