Bear vs. Cow, Part 2: The Curse of Shawn Bell's Premature Hand Gesture
Thanks to our Oso Amigo (we'll always have Stillwater) Andrew Wiseman over at
Colonial Hoops
for alerting us to
this pathetic news item from the Sporting News
. Apparently, Texas is digging deep for motivation for tomorrow's game and has settled upon Shawn Bell's now-infamous "Horns Down/Saw 'em off" hand gesture, following a first-play-of-the-game 80-yard TD strike to Trent Shelton. While we did score more points on Texas that game that any other team had prior during the 2006 season, perhaps Bell's enthusiasm was a bit premature. Maybe he was just celebrating the fact that GuyMo gave him the starting spot over kleptomaniac and part-time tight end Terrance Parks, whose performance against UT the previous year was a special kind of ass-whoopin'.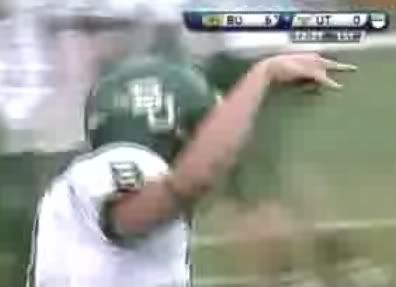 "Surely, such taunting will intimidate the 'Horns."

Will the ShortHorns truly use Bell's disrespectful hand signal as a motivational tool to defeat the worst team in the Big12? Do they really need motivation? Is it possible that we could "fall on our sword" and forfeit the rest of the season rather than face certain shame, humiliation and emasculation? In case you'd like a recap of the miraculous 1st Quarter from last year's game, here is the youtube of the finest quarter of Baylor-Texas football since 1997.
Labels: BevoMeat (Texas), Shawn Bell for Heisman