Bear vs. Bison: Prepare for a civilized sporting event
We could prattle on and on about how CU
used to a championship-caliber program
. We could also delve deeply into the Oedipal
nature of the Father-Coach/Son-QB relationship
in Boulder that is all too painfully familiar here in Texas. Some members of the Editorial Board even suggested an in-depth analysis of the Sooner-slaying Buffaloes and how they may just be good enough to give our boys a game. However, we would prefer to focus on the impeccable manners and good breeding that characterizes Colorado's alumni, students and fans. CU's reputation as a party school conceals the true sophisitication of its noble partisans. With that we present,
courtesy of EDSBS
, the greatest college football fan picture so far from this season. Not only is the woman in the center of the shot demonstrating her virtue in a ladylike manner, but her gentlemen companions each seem to be in their own world of chivalry, honor and duty. Similarly, her lady companions each seem to be expressing the traditional virtues that brought them to Boulder, Colorado in the first place.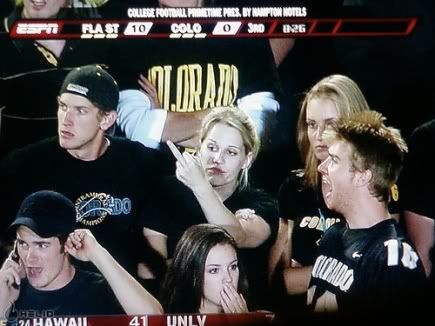 A Lady and Her Suitors
Will the Betty Baylors of the world exhibit how well-behaved Texas Baptists cheer for their alma mater? Will Joe The Baptist Pawelek have to save the day again in triple overtime to pull out a win at Floyd Casey? How many douchebags can you count in the photo above? Was Colorado's victory over OU a fluke, or is the sleeping giant of the Rockies emerging from its slumber? Was The B's loss to A&M a fluke, a bad dream, or an example of a program in meltdown mode? These questions, and many others, must be answered. But by whom? Surely, Bruins Bold, The Bear Blog, and TurdPolishers.com are up to the task. Right?
Prepare, dear Bears, for a battle between schools of high moral character and true Christian virtue. Sic 'em, Fightin' Baylor Bears!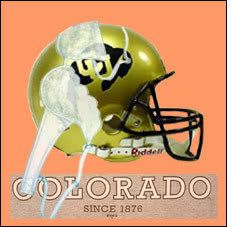 Home of the Founder of Promise Keepers
Labels: BuffaloMeat (Colorado)