Baylor Baseball Players Arrested, Jailed for Underage Keg Party!
UPDATE: Now with mug shots!
Keystone Light: "Always Smooth, Even When You're Not."
When you gear up to play a party school, you really hope that the entire athletic program will support you. Sometimes, even a small gesture, like throwing an underage keg party, can give the football team the confidence they need to defeat a party school. Yeah, Colorado, we party too! In fact, we're willing to risk our D1 baseball scholarships and a night in jail in order that under-21 Baylorites can have a kegtastic party with plenty o' Keystone Light for everyone. Thanks to the WacoTrib for its excellent crime-beat coverage:
Relief pitcher Nick Cassavechia, 21, of Dallas, and junior pitcher Erik Forestiere, 22, of Pine Bluff, Ark., were arrested and charged with furnishing alcohol to minors, according to arrest warrant affidavits.Police officers on patrol spotted four women who looked younger than 21 carrying a case of beer in the 2400 block of University-Parks Drive on Sept. 14, according to the affidavit. The officers stopped and learned the women all were younger than 21. As the officers spoke with them, one noticed a beer keg on the front porch of a nearby apartment, the affidavit stated. When the officers knocked on the door, Cassavechia, Forestiere and another roommate stepped outside and spoke with police, the affidavit stated. Officers looked inside the apartment and saw bottles of liquor and beer along with other people they suspected were younger than 21 because of their actions, the affidavit stated. "There were various people within the house attempting to hide from police detectives, one was found under the bed and one was found in a locked room," the affidavits stated.

Sometimes an athletic program just needs a good light-hearted criminal matter for some levity. It's a nice change of pace to hear that Baylor athletes aren't shooting each other, killing cats, gettting in Cameron Park knife fights, etc. Instead, just a good old-fashioned keg party for kids! Who can blame these dudes. I sure hope they don't lose any playing time over this. God forbid Baylor has to actually address the rampant off-campus alcoholism. The first step to solving your problem is admitting you have one.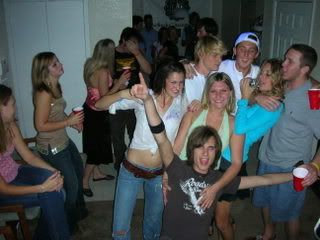 "We're Baylor Bears, Bitches!" - An Actual Myspace.com Group
Labels: Baylor Sports Scandals