The B: 1961 Gotham Bowl Champs!
The Gotham Bowl: Our Greatest Post-Season Triumph
The Gotham Bowl was a short-lived bowl game held for only two years in the early 1960s. The game was hosted at in NYC at the now-defunct Polo Grounds for its inagural game, then at Yankee Stadium for its final game the following year.
The Wikipedia entry
cites the cold weather and the lack of fan support and ticket revenue as two reasons why the Gotham Bowl failed to sustain as a viable annual bowl. Now, thanks to the good people at Congress Clothing (located next to Scruffy Murphy's on Speight), Baylor fans can relive the 1961 Gotham Bowl victory with a commemorative/ironic t-shirt celebrating that glorious day in December for only $24!
Here is the link to their Gotham Bowl t-shirt
. In our first meeting with Utah State, we trounced those "Big Blue Aggies" 24 to 9. Sic 'em, Bears! I love NY!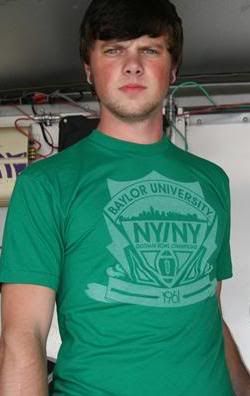 This could be you, clad in your Gotham Bowl t-shirt and ready to impress some English-major-coeds from Plano with your use of the word "post-structuralism" over a few pints at the Dancing Bear Pub
LOCAL CELEBRITY ENDORSEMENT UPDATE! WacoTrib hearthrob reporter Emily Ingram sported a Gotham Bowl t-shirt long before BearMeat made them famous. Thanks to Wendy Does Waco for the tip.
Em: Will marriage dull her distinctive Wacofabulous style?
Labels: Emily Ingram, Wacofabulous