Around the Quad: Madness on the Brazos
Today, two news items seem to compound the reputations of Baylor and Waco as truly bizarre. The only way to deal with them is by bringing our readers the real scoop from around the Burelson Quadrangle.
1. Giant 70-foot Statue of a Texas Ranger to be Erected Along I-35
. Seriously. The
WacoTrib reports
that the same sculptor who designed the 70ft statue of Sam Houston on I-45 in Huntsville is going to do Waco a solid and help boost our profile with an enormous cowboy statue where I-35 crosses the Brazos: The Texas Ranger Hall of Fame Museum. This is such an absurd news item that it is beyond comprehension.
Wendy brought this to our attention
, the Waco City Council approved the idea, and, quite frankly, we can't help but support it 100%. Waco is finally embracing its true nature: the wildest, weirdest city in Texas. Let us celebrate who we are and what we do best: we don't give a damn and we want everything covered in Ranch Dressing. Also, we love big statues, guns and Our Lord. The WacoTrib envisioned what this sight will look like.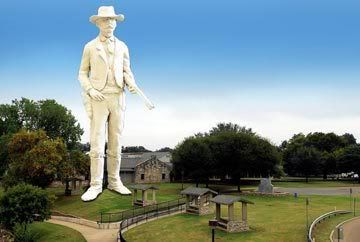 BigTex 2.0: "Justice For All. Except Messicans, of course."
The comments section of the WacoTrib articles as of late, especially the Schunpp scandal and the Texas Ranger Statue, have been hilarious. The only thing comparable is the comment section after Ted Nugents column in the Trib, which bring out some of the highest-minded opinions of our citizenry. Here is a sample reaction to our 70-ft LawMan:
By anon
Oct 17, 2007 12:10 PM

Oh. My. God. The whole thing is so ridiculous, it's like something The Onion would have thought up. So when exactly do we get to officially insert the "k" into "Waco"? Because, trust me, that's definitely what a giant Texas Ranger statue says. Maybe next we could go for the biggest ball of twine or make the biggest peanut butter and jelly sandwich. Shoot for the stars Wacko!

By cruz
Oct 17, 2007 1:44 PM
I'm all for getting people to spend money in Waco. A towering statue of a Texas Ranger isn't going to get it done. How about building some new restaurants and clubs along the banks of the Brazos River so people who live here can spend their money here instead of going to Dallas and Austin for concerts and shows. Maybe the Texas Ranger Nightclub would be a more profitable investment. You have to give potential tourists more of a reason to pull over than parking in the shade of "Central Texas's Largest Bird Poop Covered Landmark".

By Wow....
Oct 15, 2007 5:46 PM
I agree with all the negative comments....a 70 ft $800,000 statue is ridiculous!!!! Do you honestly think that would do anything for Waco. Boo this idea! Boo! Boo! This is the stupidest idea, even more idiotic than the Waco We Do thing...are there no truly creative people in Waco...???
2. The 5-Ring QB Circus Is Back in Town. Blyzzle Szyzzle suffered a mild concussion in the game against Kansas (if you can actually call that a game), giving GuyMo good reason to open up his 5-Ring QB circus that was so popular over the summer. If you will remember clearly, the featured attractions are a 27-year old grown man who has played pro baseball, a JuCo transfer with arms of steel and a felonious last name, a singer-songwriter whose file photo suggests he loves cocaine and hittin' the clubs, and a sweet youngster who is enjoying his experience as a freshman. Its been way too long since we've been able to speculate about who will be the starting QB against Texas. Which of these five guys (if you include Blyzzle, who is a maybe for the game) will get the opportunity to get blown out by Texas? Should BearMeat resurrect its John David Weed campaign, or is that played out now? Please, instruct us on how we should deal with the resumption of second-guessing GuyMo's drawn-out QB decision making. Don't worry about responding hastily, we're sure the decision won't be made until 5 min before kickoff.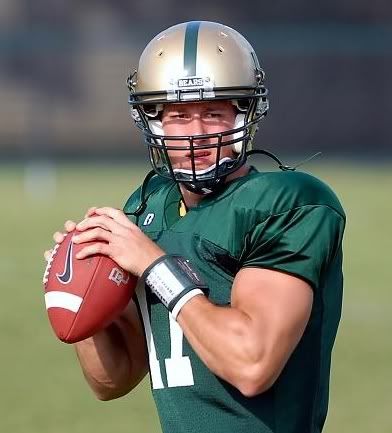 Behold, A Leader of Men
Labels: Around the Quad, John David Weed