A Travesty of Justice: "Mayor" Collins Indicted
According to the WacoTrib
, The Mayor of Sironia, Bill Collins, has been indicted by a grand jury with charges of aggravated assault and evading arrest with a vehicle. This all stemed from an incident this summer in which Collins felt threatened in a dispute and shot the other man in the leg. He then fled the cops, giving chase for a few blocks before surrendering. Collins explained his actions as self-defense. If only this incident had occured after Sept. 1, 2007, when the new NRA-backed "Stand your ground" law went into effect in Texas. According to this law, if someone does something to annoy you, you have the right to exercise your 2nd Amendment Rights by using deadly force against them (we think). To fully understand what we are talking about, please read our
previous post on Mayor Collins
.
"Mayor" Collins: Waco's Favorite Black, Republican Cowboy
The Trib article also revealed that Mayor Collins (whose mayoralty encompasses the cosmic realm of Waco, not the material realm) is the son of the owner of Mama & Papa B's! You know, the BBQ on 8th Street that boasts: "If the Bears Kill It, We'll Cook It." [They declined to take us up on our request to cook an Aggie after our 2004 victory over Ass & Mule.] Mayor Collins is a perennial candidate for McLennan County Commissioner and for Mayor of Waco. Due to his persistence and originality, the BearMeat Editorial Board has elected him "Mayor of Sironia," (Sironia, Texas is Madison Cooper, Jr's epic novel based on Waco -- for BearMeat, Sironia is the literary, cosmic realm of Waco, Texas) in which capacity he has been nobly serving since news of his arrest reached our offices in the ALICO. When queried about his Tom Delay -esque mugshot, the Mayor replied: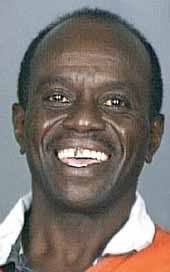 "When it comes time to defending my life, my family or my country -- baby, I do that with a smile."
Now do you understand why he is the Mayor of Sironia? If not, your assignment for tonight is to read our blog from start to finish. When done reading, if you are still confused, we will gladly direct you to Turdpolishers.com for something more your speed.