The Plague of Frogs
Then the LORD said to Moses, "Go to Pharaoh and say to him, 'This is what the LORD says: Let my people go, so that they may worship me. If you refuse to let them go, I will plague your whole country with frogs. The Nile will teem with frogs. They will come up into your palace and your bedroom and onto your bed, into the houses of your officials and on your people, and into your ovens and kneading troughs. The frogs will go up on you and your people and all your officials.' " Exodus 8: 1-4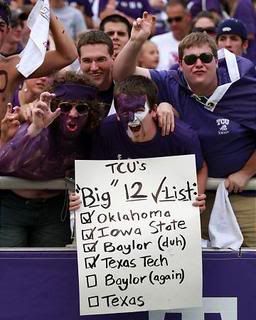 As with most football defeats, the BearMeat Editorial Board must mine the Scriptures for the appropriate spiritual balm for our 27-0 burn. The Plauge of the Frogs seems most appropriate for what just happened. We have been bested. A plague of frogs descended on our Baby Bears and decimated the sweet little cubs. Perhaps we should learn a lesson about arrogance and trash talk before taking on opponents who are superior to us offensively, defensively, and in special teams. With a freshman QB and their best player MIA, the Frogs easily dealt with the in-theory formidible AirBear offense. We have a pass-happy offense that failed to score a single point. Think about that. Szymanski's play in the first half was competent, but his 2nd half breakdown and failure to make the right decisions at crucial moments revealed much. Just like Scott Drew's Gentlemen Bears, GuyMo's squad can't seem to close out games and score when needed. While we love The Polish Pony a great deal, perhaps the fact that the starting QB position was named at 5pm on gameday might have hurt the confidence of Blake and the offense. Our defense held up well, but 4 turnovers and 2 missed FGs did not assist their efforts one bit. The single question coming out of this game is not "Can we make a bowl game this year?" or, even "Will we field a competitive team?" No, the answers to those are clear. The question is: "Can GuyMo salvage his Baylor coaching job?"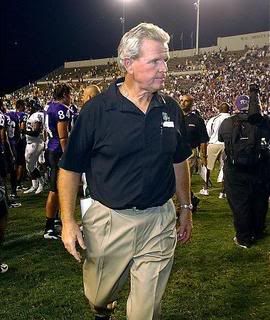 Uneasy lies the head that wears a crown
A few notes:
We leave you with a quote from the prophet Jeremiah: "So put on sackcloth, lament and wail, for the fierce anger of the LORD has not turned away from us." 4:8
Its gonna be a long season. Sic 'em, Bears.
Labels: FrogMeat (TCU), GuyMo (Guy Morriss), John David Weed