Meaty Tidbits
You are probably looking for some in-depth coverage of the Texas State game. Okay, here it is: We better not lose to Texas State. Baylor has never "officially" lost to a 1-AA program (save the
"lost loss" to Lamar University in '81
) and if we mess up that this season, the trip to Buffalo will be a long days journey into night. If you are looking for something a bit more substantive, go see
BruinsBold
. They do the analysis, we do the comedy. With that, here are a few Meaty Tidbits to aid your digestion as you sit and watch your soul rot in your cubicle in North Dallas, listening to your Aggie cubicle mate prattle on about how they are going to decimate "The U" aka Miami.
Wendy Does Waco

has added images and reports on her trip to the

Dancing Bear Pub

. Her new multi-media approach to blogging bodes well for the future of zany Waco blogs.

Lyndon Baines Johnson was a graduate of Texas State (then Southwest Texas State Teacher's College - lesson: drop the regional affiliation and vocational reference and you are a state-wide university!) and the great-grandson of Baylor president George Washington Baines. If only he had attended BU, like his momma did - we'd have that presidential library by now. That is your historical link for Saturday's game. Here is a photo of LBJ just relaxin'.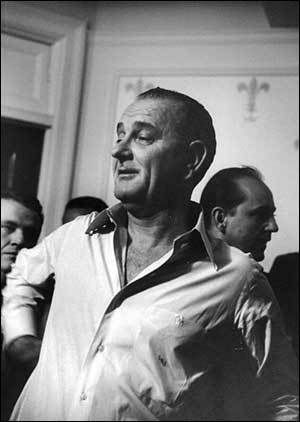 "Y'all Know I Love The Ladies"
Aggie Message Board, TexasAgs.com, posts mean photos of Baylor and rags on our school, our team, our pride and our traditions. Here is the thread. Below is an example of their inspired handiwork. To arms!

One Win in 20 Years - Gigged!