The Erin Andrews of Central Texas
There is almost nothing positive to say about Saturday's game except that it is over. GuyMo's Baby Bears dropped a giant, unpolished turd up in Ft. Worth, that the boys at Baylorfans.com will have to work very hard at polishing, in order to make it appear like USC's loss to Texas in the '06 Rose Bowl. However, just as we failed to meet the expectations outlined in our slogan "Defeat With Dignity" we did predict that "Every Turd Shall Blossom" and with that, we present perhaps the weekend's only highlight for Baylor football: WacoTrib reporter Emily Ingram's new video series, The EM Zone.
Click here
for her humorous interview with GuyMo. Based on a reader's comment, we thought it might be appropriate to point out that Em is the Central Texas
Erin Andrews
(ESPN sideline reporter and most male college sports bloggers fantasy date). See the two photos below and watch the video before making any comments - and be nice. [Want another photo of a BU sports hottie? Check out
Rachael Johnson
.]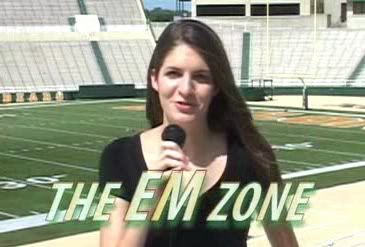 "You are now entering the EM Zone"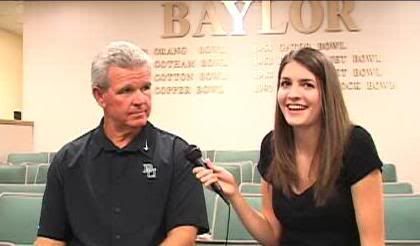 Em & GuyMo share a laugh . . . sort of
Labels: Emily Ingram, White Women