BearMeat Photo Caption Contest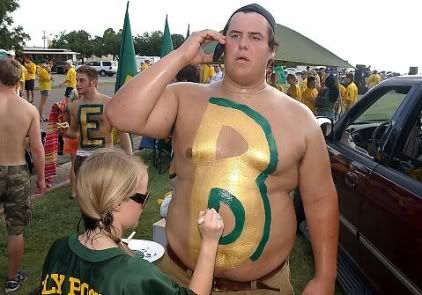 "Bob, go ahead and liquidate my Halliburton stock . . . what? No, this isn't an inconvenient time to discuss this. Just gettin' my belly painted for the Rice game. Yeah. Lost a bet to a Sig Ep alum."
Thanks to Wendy Does Waco for alerting us to perhaps the greatest photo ever to grace this site. More reason to check out all 285 photos in the WacoTrib Rice game gallery. Feel free to leave your own caption in the comments section. The winner will get a free pre-polished turd and case of Rebel Yell whiskey mailed to their home. Please, no P.O. Boxes.
UPDATE: The winner of the contest is the subject of the photo himself, "Brock." Yes, dear readers, that is his name and it is awesome. Here is his caption for his own photo: "hurry up and finish so i can go get me one of those damn good looking hot dogs on the grill."
Labels: Brock