Bear vs. Soldier: The Plague of Dead Pigs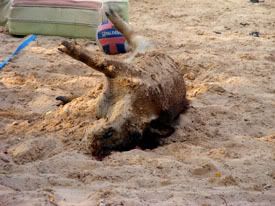 Dead Pig Found in FIJI Sand Volleyball Court - Seriously
Nothing could be more ominous before the Battle of the Brazos against Ass & Mule than numerous dead pigs showing up on student's doorsteps around campus. [
Lariat Link
] Even more ominious is that a dead pig was also found laying at the feet of the Rufus Burleson statue. Was this an Aggie prank directed at BearMeat? The Lariat reporter tasked with reporting on this seemed to have interviewed perhaps the most oblivious white girls on Baylor campus, and I quote:
Senior Katie M. found a large black pig bleeding on her front porch when she came home around 2:30 a.m. Wednesday. She called her roommate inside the house, telling her to come out to the porch. McKinnon explained to her roommate, "A hog. Oink-oink. Pumba is laying in our front yard." Katie M. called 911 immediately. "The emergency guys were laughing at me saying, 'There's a dead hog on your porch? Is this a joke?'" Katie M. said she believed that police could have been more sensitive and helpful. "They didn't really want to help me figure out who did it in the first place. They didn't take the initiative. They spent more time laughing at me and my response to it than really helping the situation," said Katie M.
First off, does a dead pig with a bullet in its head merit dialing 9-1-1? Isn't that line for living human emergencies? I wouldn't be surprised if the EMTs and police dispatched on the living human emergency phone line were a bit amused to find a dead pig and a concerned Baylor girl. I guess she expected funeral-like somber tones for her doorstep pig tragedy. Why was she getting home at 2:30am? That is suspiciously right after closing time in Waco bars.
Secondly, the Lariat reporter twice refers to the Burleson statue as the "Judge Burleson statue." Rufus wore many hats, but he never served in the judiciary. A little fact-checking would help with the credibility of your reporting from time-to-time.
Thirdly, what does all this portend for the Aggie game? We humbly ask our readers to explain the Biblical significance of a plague of dead pigs. Are we supposed to be "letting my people go"? Who are the capitves? Fran? GuyMo?
Labels: AgricMeat (Texas Aggies)