Bear vs. Soldier: Dereliction of Duty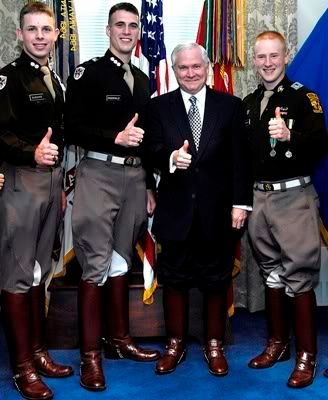 Sec. Gates posing with historical re-enactors
It wasn't that long ago that BearMeat was claiming that the Ags had toppled the LongHorn Empire and were ushering in a new era of barbarism in the Big12 South. Things looked good for the Aggies - they had an Aggie Governor of Texas, the best young basketball coach in the U.S. who turned the program around in one year, and a football team that had finally toppled mighty Texas, on their home turf, no less. Yes, those days appeared to be the Halcyon days of Aggie Athletics. The baseball team soon took the Big12 title and it looked like the Aggies were soon going to BTHO of Al Qaeda if things kept progressing as they had, considering their former president, Robert Gates, as Secretary of Defense was overseeing a surge effort in Iraq that was bound to bring closure to the events of 9/11. Yep, life as an Aggie couldn't have been better. Then, without warning, in a school which prizes duty and honor above all, men who should have known better were derelict in their duty.
Please let the following serve as an official court martial of the three Aggies most deserving: Dennis Franchione, Rick Perry, and Billy Gillispie.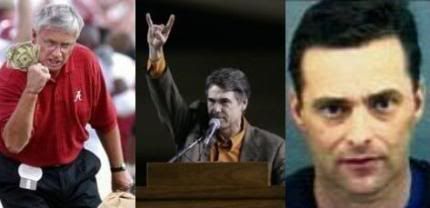 The 3 Deadly Aggie Sins: Greed, Pride, Envy
The Court Martial of Billy Gillispie
Charged With One (1) Count of Betrayal
At the time that we wrote those words, Texas had lost in the NCAA tourney and Ass & Mule was alive and well, poised to make the Final Four. Yet, within days of the utterance of those seemingly-profound words, the animal-husbands from Bryan-College Station had suffered a tourney defeat to Memphis, ending their Cindarella dreams at an NCAA title. Within weeks of this humiliating loss, the Golden Boy of Aggie Hoops, Billy Gillispie, who had resurrected Aggie Hoops from downfall, had departed for the bright blue grass of Kentucky. His departure left Aggies bewildered and saddened. Their anger seemed more directed at UK and Ashley Judd than at Gillispie himself.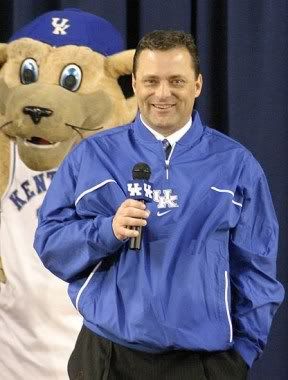 ". . . and at that moment a rooster began to crow." John 18:26 NIV
Gillispie is a Texas boy, born in Abeliene who worked his way up from a JV assistant coach at Killeen High to the head coach of Texas A&M. He was even an assistant coach at Baylor for a few years. It seemed that based on his career path, that he might have found his dream job in Texas A&M. But in less than three years after arriving, "BCG," as the Ags called him was gone. And with nothing to show for his time except for 3 straight 20 win seasons and 2 straight NCAA tournament berths. Why? The money? A&M ante'd up bukus of cash after the season was over, but BCG was having none of it. He wanted power, prestige and prominence. He wanted to coach at the dream school of any aspiring young careerist coach - Kentucky.
It was in this manner that Gillispie betrayed the Aggie faithful.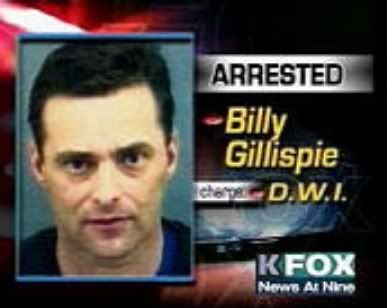 So dark, the con of man
The Court Martial of Rick Perry
Charged With One (1) Count of Blasphemy, and Two (2) Counts of Douchebaggery
Governor Rick Perry, our inagural Aggie Douche, is no stranger to controversy. An Aggie Yell Leader, West Texas rancher, former Democrat, and Air Force pilot, Perry has worn many hats in his time on this earth. In a previous post, Aggie Douche, we discussed how unfathomable it must be for Aggies to see the first Aggie Governor of Texas giving the "hook 'em horns" salute on multiple occasions. These actions demonstrate his blasephemy.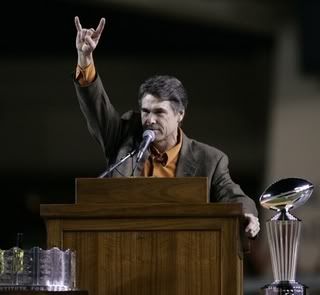 Saw Varsity's Horns . . . Um, I mean, Hook 'Em!
His douchebaggery consisted of his attempt to mandate HPV shots for every 11 yr old girl in Texas, which sounded like a noble, progressive cause for the neandrathal conservative governor, until it was reported that the Big Pharma corporation Merck stood to benefit handsomely from this arrangement. And who was representing Merck's interests in all of this? Why, none other than Perry's former chief-of-staff. Pitiful. If that wasn't bad enough, without warning, Perry cut the millions of state funds to community colleges that were earmarked for their employees health care. This was quite possibly the biggest blunder yet for a gubenatorial reign that looks to be the longest in Texas history (unless he decides to run for Prez or Vice President). No better way to piss of people across the ideological spectrum than to gut a community college budget. No community in America views these schools as anything other than indispensible. Pathetic.
It was in this manner that Rick Perry betrayed the Aggie faithful and all of Texas.

The Court Martial of Dennis Franchione
Charged with One (1) Count of Mediocrity
What can we say about Fran? We Baylor Bears love him so dearly for helping to make our schools competitive again in football. Thanks to Fran, we were able to secure a victory in 2004 - and they were ranked! Thanks to Fran, the Aggies actually have to worry a bit when they play Baylor. Thanks to Fran, Aggies are constantly upset and on edge. Yes, Fran has done more for anti-depressant sales in the Bryan College Station area than all the pharma reps in the region combined. He is so loathed by Aggies, that there are a number of sites dedicated to his removal, like FireFranPetition.com, or FireDennisFranchione.com, or FranUnderFire.com. Its basically an entire corner of the internet (which is shaped like a box, our interns tell us). Some anti-Fran Ags even call the renewed tension between our schools the "Franivalry." Hah!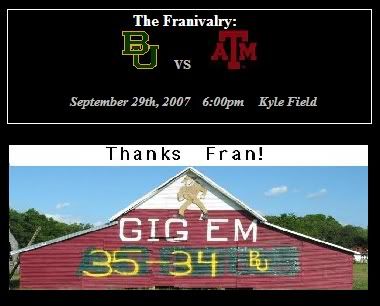 Thanks, Fran, indeed!
Last Thursday humiliating loss to Miami probably sealed his fate, but with Fran you never know. He'll most likely be around to lose bowl games on ESPN2 for another few years. He's a resilient creature who just keeps hangin' on. As long as Fran is at the helm, we here at Texas's Oldest University will always have a shot at bringing down those Aggies a peg or two.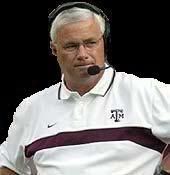 "I've been a naughty boy."
These are the men who have failed to perform their duty to the Corps. They have been court martialed and await their sentence. All that remains is for GuyMo, Blizzle Syzzle and Emily Ingram to finish them off and put them out of their misery.
Sic 'em, Bears!
Labels: AgricMeat (Texas Aggies)