Bear vs. Soldier: Bring Me the Head of Dennis Franchione
We of the BearMeat Editorial Board are head hunters. More specifically,
we have a collection of severed heads of coaches
who are fired after losing to Baylor. So far, the heads of basketball coaches Quin Snyder and Melvin Watkins are on display in the Will Ferrell Center at Baylor. One type of head is desperately missing: the head of a head football coach.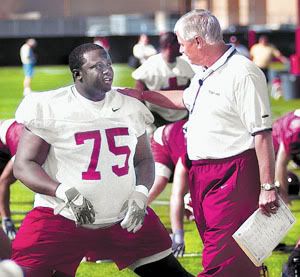 "Things won't be so bad without your head, Coach."
Right now Dennis Franchione is a heavyweight in the 10th round, about one punch away from being knocked on his ass. He's on the ropes, he's teetering back and forth. His vision is blurry. He can't seem to get his balance. Up steps the underrated and unexpected contender to the title: a grizzly old veteran that every one had counted out . . . except himself. Fran is so weakened and vulnerable right now - if his team is nearing anything like the demoralization of the students, alumni and fans of Ass & Mule, then The B may just have a decent chance of toppling the Ags. Fran's sad-sack Agrics may not know what hit them. As soon as they look up, they'll see the boys in Green & Gold holding the Battle of the Brazos trophy (which is actually a live feral pig) and realize they have been knocked on their ass.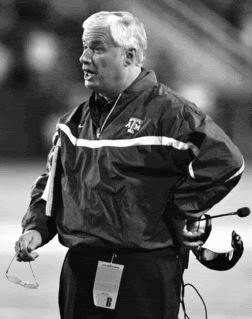 "Baylor has shamed me before, Lord. Don't let them do it at Kyle."
Will we see another Miracle on the Brazos? Will our win be the final nail in Fran's coffin? Will a victory over A&M at Kyle (not since Reagan was in office) finally exorcise the demons of the Big12 Era for Baylor? Will we be able to sneak Rebel Yell into the game? How many interns does it take to kidnap an Aggie? What will Reveille taste like after Mama & Papa B grill her up nice and tender? Many questions remain. The final question is not for partisans of the B, but for our country cousins 70 miles down river:
When will your long, campus-wide nightmare finally be over?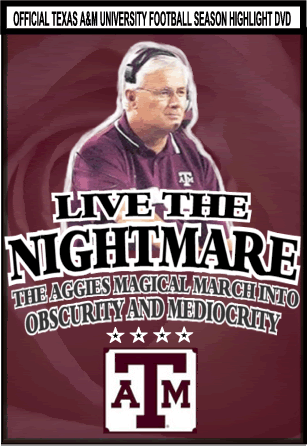 Fran: "Won't someone please put me out of my misery?"
UPDATE: Out of the mouths of Brospehs . . .
Labels: AgricMeat (Texas Aggies), Bring Me The Head Of . . .