Bear vs. Owl, Part 4: There Can Be Only One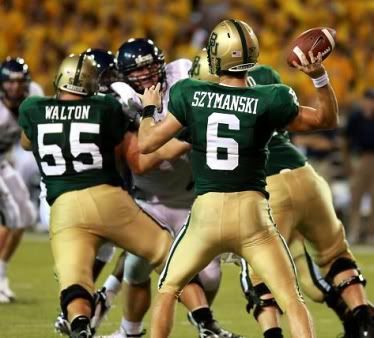 #6 Goes for 6
Wow, what a turnaround. Szymanski went from throwing 3 interceptions and failing to throw a single touchdown in the humiliating loss to TCU last week, to a Herculean effort against the Rice Owls setting four significant Baylor records. Keep in mind we have been playing football since 1899. When the dust settled in the 42-17 blowout over the Owls, the Bears ate their honey and reflected on the four historic marks reached by young Blake.
Most TDs thrown in a game: 6, Blake "Stem Cell" Szymanski, 9/8/07, Rice

Most passing yards in a game: 412, Blake "The Polish Pony" Szymanski, 9/8/07, Rice

Most 1st Quarter TDs thrown a game: 3, Blake "The Highlander" Szymanski, 9/8/07, Rice
Most TDs thrown in one half: 4, Blizzle Szyizzle, 9/8/07, Rice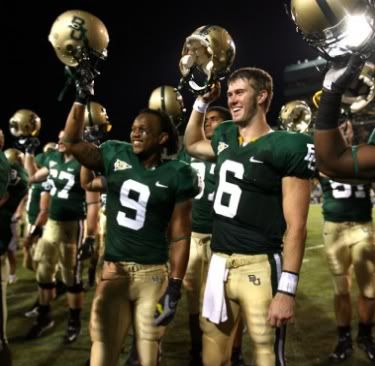 Szymanski in Triumph
This is significant because Rice is a D1 team against whom we have been playing since 1914. Its not like this is some random crappy school. We've never put up numbers like this before against Rice. Today AirBear functioned as it should and Blake and his corps of faceless receivers worked it to perfection. It was great to win the home opener against an old SWC foe and it was great to see Blake Szymanski emerge from the 4 QB Circus. There can be only one.
Sic 'em, Bears!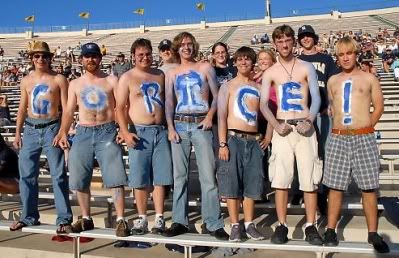 Uhh . . . 1991 called and wants its denim shorts back
[Great WacoTrib Gameday Fan Gallery. Why were only 34 Rice fans at the game? Were they too busy making money and feeling superior to us? Who the hell are the dudes in the picture above. If I didn't know that photo was taken today, I would swear it was from the early 1990s.]
Labels: OwlMeat (Rice)