Bear vs Owl, Part 1: Bruiser vs Sammy
When Rice University (
ranked #17 among national doctoral-granting universities by US News & World Report
) decided to choose a mascot it went against the general trend. Most other Texas universities chose mascots that would strike fear into a human being if it came running towards one: Bears, Longhorns, Cougars, Mustangs, Masked White Men (Tech), and Militaristic White Men (A&M). Rice, cut from a different cloth, cares more about the classroom than the gridiron. To communicate their love affair with knowledge, they chose an owl, seen to be one of God's wisest creatures. Hardly a terror-inspiring animal (except maybe for field mice), the owl is a scholarly, elitist bird, the type which The Decider would have the utmost contempt for. Perhaps what we at Baylor need, if we are truly going to ascend to the upper echelons of the US News Rankings, is a mascot that conveys our contempt of ferocity and our preference for intellectual detachment.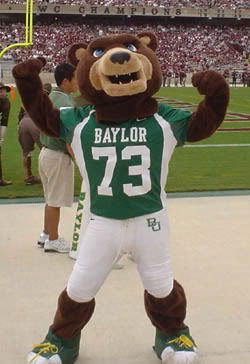 Bruiser: "Me Hungry for Scholarly Inquiry!"
If only there was an animal that would strike the unlettered observer as a both a devout and cerebral beast. Perhaps a church mouse? Regardless, the symbolism in Saturday's upcoming game is pregnant with hidden meanings and historical disappointments. With that, we would like to present the mascot of Rice University, Sammy the Owl. Here is a Playboy interview with Sammy the Owl, in case you don't believe us.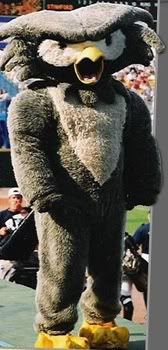 Sammy: "I may not be fierce, but I am wise."
Will such a mascot be up to the man-eating standards of Bruiser, our bold bruin? We shall leave that question to our dear readers. Which mascot will prevail this Saturday? Will Bruiser vanquish Sammy? Or will Sammy feast on BearMeat?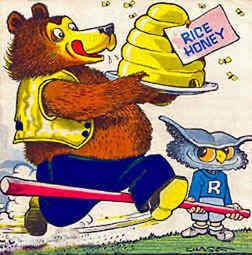 Baylor: Y'all Know We Love That Honey!
Labels: OwlMeat (Rice)