Bear vs Bull: Market Fluctuations
While the three ghosts of the Editorial Board will not be headed north for the Buffalo game (our spirits can roam no farther north than the Mason-Dixon line), we have dispatched an associate editor,
Curtis Edmonds, Esq
., to upstate NY to report on his experience within the next few days. While we know nothing of Buffalo, its school, city or team, we will dutifully report on news from around the Burleson Quadrangle.
1. New Em Zone!
The
newest video
(masterfully filmed by
Wendy Gragg
) has the recently-engaged Em desperately searching for Aggie jokes at George's Tent. While her quest yielded very few family-friendly jokes, she did show off that regionally-famous charm which has endeared her to the hearts of all seventeen BearMeat readers. (
Em Zone Archive
)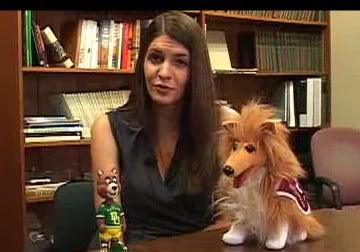 The Barbara Walters of the Brazos
2. Disco Tech! Offers Alternative Employment Ideas for Coach Fran. Disco Tech! is basically the BearMeat of Lubbock, except that they have at least one liscensed copy of Adobe Photoshop. Their skill with multimedia has yielded a hilarious photo series envisioning Ass & Mule's head coach, Franchione, in various employment scenarios following his humiliating loss to Miami. Link here.
Cadillac Fran
Labels: Around the Quad