Bear vs. Bull: A Game For Investors
The Bears are going up to New York state to play the Bulls (University at Buffalo) this weekend. For a game involving serious implications for Wall Street (bears & bulls - get it?), we thought we would send our favorite proponent of free market capitalism,
Curtis Edmonds
, a member of the Northeastern Conservative Elite, to cover the game for BearMeat. He promises a full report with photos. To give you a taste of how creative Curtis is, here are his
Baylor Demotivator Posters
(which are damn funny). He just today produced a hilarious version of
Baylor Proud
, the new BU PR blog, which is below.
Click here
for the larger version.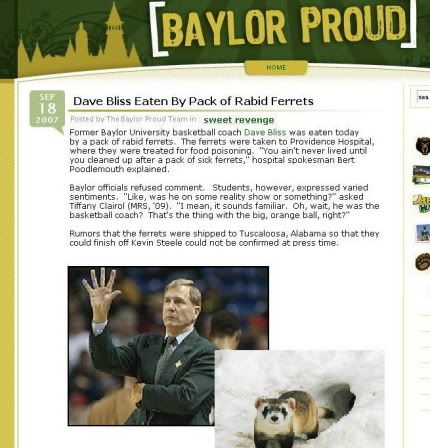 R.I.P. David Bliss
Now, to proceed with our preview. Instead of actually supplying answers to your many questions, we thought we would pose a few questions of our own about this game.
Why are we playing University at Buffalo in upstate NY?

Is this a recruiting ploy? Is it because they are arguably

the worst D1 program in the nation

? Also, they have

a Ray Guy nominee

! Isn't it funny how terrible football schools have the best punters? They are by far the most important position on the field. How we miss

Danny Boy

!

Why is Baylor planning to scrap the "interlocking BU" symbol? We hear rumors that it is because it mirrors the interlocking BU of Boston University? Why is this in the works? Who in Boston has heard of Baylor? Who at Baylor has heard of Boston University? How much confusion could this possibly cause? While we at BearMeat do prefer to call Baylor "The B" to distinguish ourselves from other schools using the "BU" - isn't it a bit crazy to cite confusion with Boston University as the reason? Also, why do we have to change? We should "lawyer up" with all those Aggie Lawyaz over at Baylor Law and sue Boston University for copyright infringement, right? Or does their "BU" even interlock?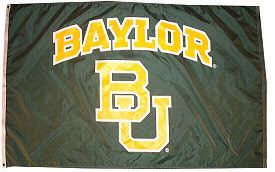 Just too close for comfort