Bear vs. Bobcat: The Education of Blizzle Szyzzle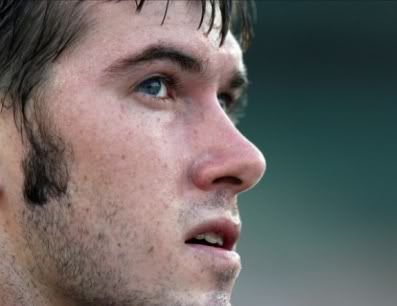 "But who can endure the day of his coming? Who can stand when he appears? For he will be like a refiner's fire . . . " Malachi 3:2
If Blizzle Szyzzle (QB Blake Syzmanski) taught us anything these last two Saturdays, its that 400yd games are possible and also two 5 passing TD games in a row are possible. Last night against the salty BobCats, Blizzle threw for one yard shy of Baylor's single-game passing record, which he sat last week. Hopefully the Buffalo game will yield similar numbers. It seems that Lee Hays's AirBear is, if nothing else, putting up huge numbers in the stat sheet. I, for one, am very impressed. While we should have blown Texas State out, a win is a win. Right Jerry Hill? Right Bruins Bold? Now we look toward Buffalo and will trust that Curtis Edmonds will bring back a story for the ages. The defense played well, for the most part, and our young receiver corps is incredibly athletic and talented. We will be a force to be reckoned with in coming years; or so I am told.
Blizzle Szyzzle Puts Some "Sizzle" on his Passes
Also, we're pretty sure Brock was at the game with a painted belly, but no one took any pictures. If you have a picture of Brock, BearMeat's lovable mascot and subject of last week's caption contest, please email it to president.andrews@gmail.com. With that we present today's Photo Caption Contest, which is a two-fold contest. First, either give us a witty caption for this photo or tell us which letter you would most likely "date":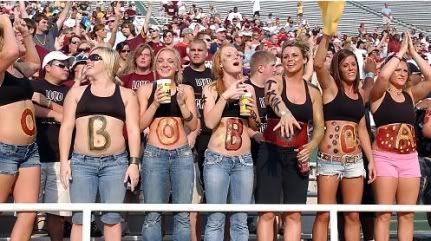 "The VMAs called and they want their 'Britney Costume' back"
Secondly, which one of these kids is most likely to be a misssionary to Africa?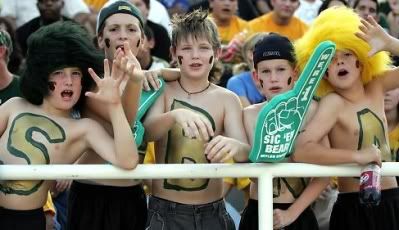 The "B": "When I grow up, I wanna be just like Brock."
Photos courtesy of another stellar WacoTrib Gameday Gallery.