Around the Quad: Book 'Em, Horns
As our loyal readers and associate editors have stated, this is a big week for The B and BearMeat. The Ass & Mule game means more to us than life itself. That having been said, we doubt last year's efforts will be topped. We present news from Around the Quad to give you a taste of some high quality BearMeat.


1. New ShortHorns Logo Unveiled!
Thanks to the diligent reporting of
The Triumvirate of Awesome
, we discovered the brand new UT logo which should set the standard by which all high-crime NCAA programs are judged. Book 'em, Horns, indeed.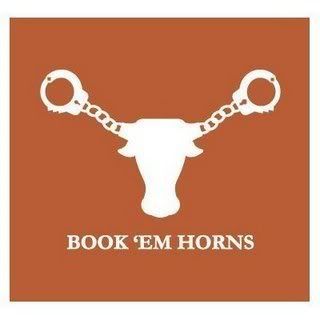 2. Move over, Mike Leach, there is a new crazy sheriff in town: Okie State coach Mike Gundy. This tirade against the media has to be seen to be believed. Meltdown would be an understatement to describe this angry, unprofessional tirade in response to an allegedly unprofessional article written by the Daily Oklahoman about one of his players. While OSU did dispatch of Tech in fine fashion, Coach Gundy is in no mood to celebrate. Tip of the Hat to EDSBS.
Gundy: "This arckle is inaccrit."
3. AgricMeat: A Retrospective. In the interests of giving our readers some background to BearMeat's distaste for Ass & Mule, we would like to present a snapshot of last year's coverage.
Nothing Like a Britney-Fan Parody From the Ags
Labels: Around the Quad