Around the Quad: The Baylor Bomber Pleads Guilty
Dearest Readers,
On the eve of the game against Texas State (formerly Southwest Texas State Teacher's College for Unwed White Women), we bring you news - no, not football news (why would we report on football during the season? that is for the off-season, when we can get some perspective on what went wrong), but two very startling news items. A guilty plea by a former athlete and an engagement involving the most eligible belle at the Cattle Baron's Ball. Enjoy!
Red Andrews, Heartbroken
1. Dave Cunningham, The Baylor Bomber, Pleads Guilty to Two Counts of "Maliciously Conveying False Information."
If you didn't read our coverage of former Baylor track and cross-country athlete Dave Cunningham, you need to
click here
and scroll to the bottom to get caught up. The short of it is that he threatened to blow up Baylor and made references to the massacre at Virginia Tech. The
News 25 story
includes this little nugget from the trial: "At one time during Thursday's proceeding, Cunningham burst out in laughter during the reading of the facts of the case."
"This is madness."
"No, this is BAYLOR!"
The
WacoTrib's account
put it thusly:
"David Paul Cunningham, 33, was arrested in May after he called a Baylor University operator and threatened to put drums of diesel fuel in buildings around campus and blow them up, according to court records. He also threatened to "kill, injure and intimidate" Baylor Police Chief Jim Doak, records said."
And what lovely Trib reporter penned that lyrical passage, you ask? Why none other than . . .
2. Emily Ingram to Wed!
According to unconfirmed, anonymous reports in our comments section, WacoTrib girl-next-door hearthrob journalist and BU alum Emily Ingram has accepted a proposal to marry. Since we have no way to identify her suitor and betrothed, we assume that he is Baylor's 4th-string QB,
John David Weed
! What will become of the
Em Zone
?!? And with that, Waco's most eligible young lady has been snatched from the dating scene and has entered the realm of contractual relationships. We hope that the diamond weighs heavily on her finger, for her intended has deprived red-blooded Waco men of the fairest flower of them all. However, take heart, boys, for in the immortal words of the thrice-married terror warrior and real life he-man Rudy Giuliani: "A ring don't mean a thing." Here is a photo of the recently-engaged Miss Ingram to remind you of what she looks like.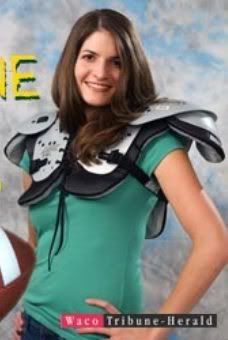 A Barefoot/Pregnant Future for Em? Say it ain't so!
In case you are wondering, Miss Emily entered our radar when she began a hilarious video series on Baylor football, known as the Em Zone.
UPDATE: Confirmed! Em left this comment on a previous post: "Anonymous is right! thanks guys for the extra incentive he needed to close the deal!...I'm still your erin andrews, right?? Love your comments! em"
You will always be our Erin Andrews, em.
3. Em Zone "Running With the Line." Just when you think there won't be an Em Zone this week, Em busts out with her best episode yet. CLICK HERE for the video. Em ran with the Baylor Line (Baylor Frosh Fan Tradition) at the Rice game and got an inside look at the enthusiasm, mania, and pre-embittered fans who populate the Baylor Line. If you need incentive to watch, we present the following photo montage.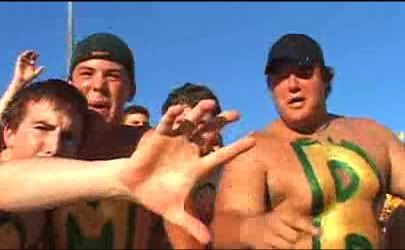 "Brock Hungry for OwlMeat!"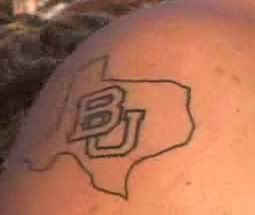 Best. Tattoo. Ever.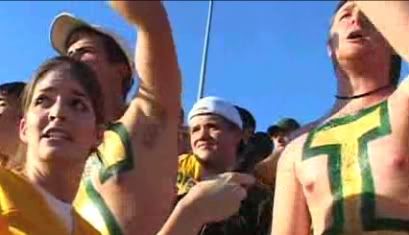 Baylor Football Happens.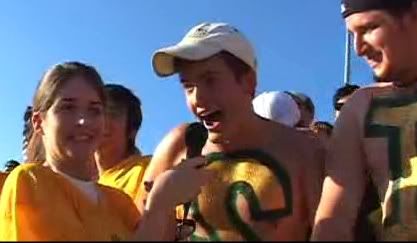 Turnoffs: Exuberance.
Labels: Baylor Sports Scandals, Emily Ingram, The Baylor Bomber (Dave Cunningham)