Are You "Baylor Proud?"
Just in time for the Fall semester, Baylor Public Relations unveiled their newest project: a blog about all things Baylor -
Baylor Proud
! From Youtube clips to sports news to administrative initiatives, Baylor Proud seeks to put Baylor's best foot forward in the blogosphere. Its a well-designed blog that seems to have a finely tuned ear to cultural things, but isn't a blog about how great Baylor is kind of redundant? I mean, BearMeat basically does all of that and more! If you have a chance, let us know what you think of Baylor Proud.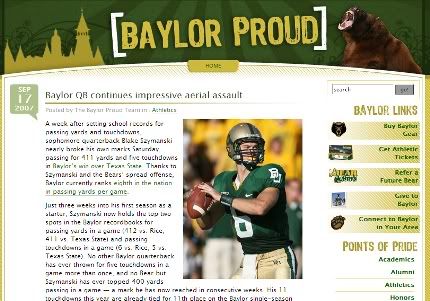 Spawn or Competitor of BearMeat?