The Tragedy of MacBrown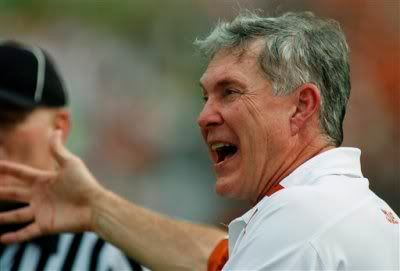 "Ron Prince Was From His Mother's Womb Untimely Ripped?"
Wow. What a Saturday. Apparently, Baylor wasn't the only BCS contender to have its post-season ambitions derailed by a lesser team. Urban Meyer looked a lot more like Rural Meyer after Florida's second straight year of losing to Auburn. EDSBS is trying to cope by
drawing parallels to the French Revolution
after a pretty sweet streak of 2 hoops titles and one pigskin title. Bob Stoop's lucky visor couldn't save him as the Okies went down to the hapless CU Buffs. And finally, that great Scottish king of Austin, MacBrown, whose lust for blood and power is infamous throughout the land, fell to the hands of Chum's dearest Wilcats in perhaps the biggest walloping of the day. PB at Burnt Orange Nation has
taken to playwriting
and
pretty white girls
to deal with this loss.
Meanwhile, back in coaching Purgatory: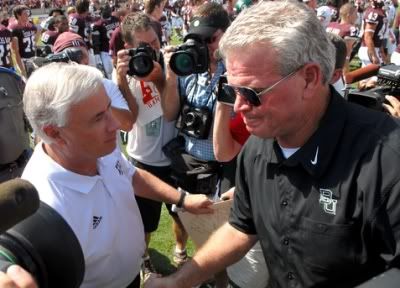 GuyMo: "I'll definitely email your resume to Ian McCaw. No problem."
Also, thanks to the
WacoTrib Gallery
of the game for this moment of post-game pathos: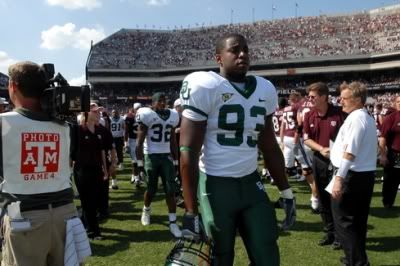 These are the times that try men's souls.
And, hell, while we're at it, we'd like to introduce a couple of outstanding blogs. First is chum's new blog, CATLAB, which is incredible! Check it out for all your psychadelic, drug-induced K-State video needs. Secondly, we seem to have a new friend over at Mizzourah, a very Missouri blog. Check out his great Big12 CFB teams as Mike Tyson's Punchout characters. Pretty clever.
Hopefully your time in church this morning will exorcise the sins of the Baylor receiving corps in College Station yesterday. Sic 'em, Bears and God Bless Baylor!