WacoTrib Rehash: Trey Wingo Praises GuyMo & Mulk
ESPN journalist Hal Chapman
"Trey" Wingo
(BU Class of '85) was in town yesterday for the Baylor Football Kickoff Luncheon. Trey had a lot of encouraging things to say about GuyMo, Mulk and Baylor athletics. Thanks to the
WacoTrib's coverage
, we can share some of his remarks with you, our dear readers. Take it, Trib:
Wingo said Morriss' progress in rebuilding the Baylor football team has been noticed by the college football folks at ESPN. Though the 1985 Baylor graduate mostly covers the NFL, he said he has frequent discussion about college football, and specifically Baylor, with the college football crew. "Those guys say they see the progress and that's the most important thing to me," Wingo said. "I think Guy's got things going in the right direction."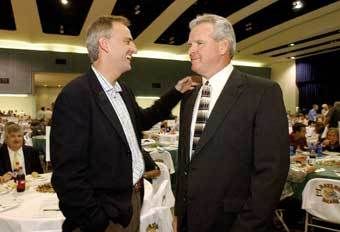 Wingo & Morriss: The Mutual Admiration Society

Hmm. How can BearMeat get in on that Baylor alum-to-ESPN pipeline? We want to join our boy Matt Mosley and Trey Wingo up in Bristol, makin' funny commercials and grillin' Terrell Owens on the Budweiser Hot Seat. Hook us up, Trey! Regarding Mulk, Wingo dropped some truth, fo sho':


When the Baylor women's basketball team reached the NCAA final in 2005, he said he called Lady Bears coach Kim Mulkey with words of encouragement the day of the game. "I told her, 'Win or lose, you've restored something that's been missing from Baylor athletics for a long time and that's pride,' " Wingo said. "I'm not the only one at ESPN, there's a few of us (Baylor alumni), and we felt pride in the program. I believe it will continue with what Guy's doing with the football team."
True dat. However, the most striking comment from the article was that of offensive tackle Jason Smith, who "delivered the most pointed line of the luncheon, eluding to a supposed lack of leadership on the 2006 squad. 'The best thing that happened to Baylor football is last year's graduation,' Smith said." Damn. Even with Bell, Shelton, Zeigler, Sepulveda, CJ Wilson, and Arline? I guess some of those guys were recruited by Steele, but they all seemed like good guys. Maybe this is the first true year of the GuyMo Team Player.


Labels: GuyMo (Guy Morriss), Mulk (Kim Mulkey)