BearMeat: A Blog 32 Years in the Making
Recently,
ksufans.com
contributor
chum
produced the
Official Music Video
of this blog. Now thanks to the intrepid research skills of
Bond J. Bond over at Disco Tech
! we now have the Official Photo. BJB apparently scanned this in from the 1975-76 Tech year book, La Ventana. Its from the 1975 game in Lubbock between the Baylor Bears and the Texas Tech Red Raiders, which Tech won 33-10. The game was televised on ABC and the Tech fans had the following message for the television audience, which presaged a certain blog by about 32 years.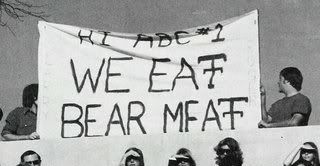 1975 Tech Fans: "We Eat BearMeat"
Click here for Larger Version, courtesy of Disco Tech!
The final score of that game and our school's history both confirm that indeed BearMeat was consumed by Red Raiders that day. In fact, BearMeat was so commonly featured on the Big12 menu, that we decided to start a blog about it. Thanks again to Disco Tech! for basically revising history to make a place for BearMeat.