BearBacker Voices: BDP's ShortHorn Sojourn, Part 2
[We are pleased to announce that Associate Editor Brandon Dean Price (BDP) will conclude the
BearBacker Voices Summer Lecture Series
with a multi-part series chronicling his journey to our state capital, or ShortHorn Sojourn. BDP has decided to pursue post-graduate study at UT and we wish him the best of luck with his time in enemy territory. Thus, "Texas" is the answer to
BDP's Dilemma
. Sic 'em, Brandon Dean Price! - Eds.]
BDP's ShortHorn Sojourn, Part 2: Requiem for a Rathole

6:30 AM CST

As the dark night began to melt away over the corn fields, truck stops and dead Aggie hookers left in the gutters, suddenly I had an epiphany. The good sun rises on Waco and Austin alike! What is the source of this grim inflexibility that has cast a shadow over our dear B? Several of my peers were unabashed in proclaiming their inability to be accepted by UT, almost like a Badge of Uncourage, or Miscourage, or something. And as I revealed to them my secret betrayal, my decision to head to Austin, many of them were filled with wonder and envy. Envy!
Why do so many young Bears despair over their rejection by their Orange Overlords? Can we not change what we might and be content with what to which we are unable? We are a school of 14,000, a close-knit, white-bodied school full of under-achievers and dumb rich kids alike. Why must we create golden calves out of the hippies to the south?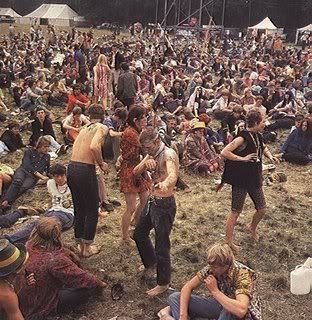 ShortHorn Fall Freshman Orientation
The major problem is that we are easy to ignore. If we were a large corporation and had to lay out our business model, our core competencies would be a mix of having the most beautiful girls in Texas and wearing plaid shorts. We do nothing truly poorly, (sans certain shooting incidents), and do nothing spectacularly. We must band together and make a stand for relevance. The good Lord will spit out all you Lukewarm Bears!

Discouraged by my declining level of enthusiasm by my trip, I immediately began making phone calls to the Bearmeat Interns as well as to the Mardi Gras Hotel near 35 and Valley Mills. New Orleans might have been destroyed but the Gras is open all hours no matter what is happening on the outside. It might be the only facility in Waco that charges you by the hour.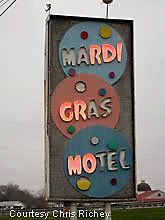 America's First No-Tell Motel
7:00 AM CST

As I neared my jalopy to the campus, I felt a sense of giddiness at driving past all of the wonders of what was my first home away from home. I hardly glanced at the 100 parking garages that have been built since I started or the dozens of homeless guys who insisted that they only needed two dollars to get the hell out of town. And then, suddenly, I became completely overwhelmed by the majestic light radiating from what I will only spell with only capital letters, BROOKS COLLEGE.

This is not where I stayed in the dorm. I stayed in Brooks dormitory for Rats. I lived in an ugly U-shaped building that 90% of the freshmen females had never heard of. I stayed in a place where we took showers communally in a room that used a leaky ceiling instead of a shower head, not "semi-private baths". In our "community rooms", there was anime playing 23 hours a day, sometimes interrupted by President Sloan's lecture on fiscal responsibility and his infomercial selling dvd's on how you too can bring your school to the next tier. At BROOKS COLLEGE I can imagine flat screen TV's that play the Miracle on the Brazos and Tales from the Crypt with John Lilley all day.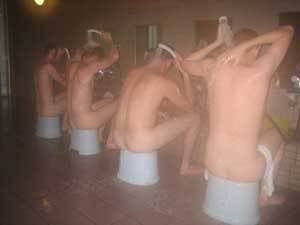 BDP Bathing With Suitemates After Chapel
It's not that I'm jealous that I didn't get to stay there, (on second thought that might exactly be the case), I am merely disappointed that there will no longer be a place where the true cast-offs may congregate, united in their failures to obtain alcohol, women or air conditioning. They will be spread like dust in the wind.

However, sleeping under the bridge would not have been a bad trade-off for sleeping at the old Brooks. So thank you Baylor for tearing down Brooks Dorm and replacing it with BROOKS COLLEGE, I can't wait to tell little lies to my little Bearcubs that their Pa used to stay in that magical building with lots of windows, no living hazards other than being too freakin awesome, and actual landscaping.
Freshman Orientation at Brooks College
And with a tear in my eye, I gave a Sic' 'Em to ole' Red, Pat Neff, and the good Judge at the ALICO as I bid Baylor adieu.

But, I'll be back on Oct. 20th, you can count on that.
Labels: BearBacker Voices (Guest Column), Summer Lecture Series 2007