BearBacker Voices: BDP's ShortHorn Sojourn, Part 1
[We are pleased to announce that Associate Editor Brandon Dean Price (BDP) will conclude the BearBacker Voices Summer Lecture Series with a multi-part series chronicling his journey to our state capital, or ShortHorn Sojourn. BDP has decided to pursue post-graduate study at UT and we wish him the best of luck with his time in enemy territory. Thus, "Texas" is the answer to BDP's Dilemma. Sic 'em, Brandon Dean Price! - Eds.]
ShortHorn Sojourn, Part 1: Goodbye to a River
Beware BearMeat readers! This is not a tale for the weak of heart or bowels. You are about to join me as I embark down I-35... into the land... of our overlording cows.
Of course I'm referring to Austin, TX, the great capital of your fine state and what I will be calling home for the next 2-20 years, depending on how quickly I will be able to dupe one of these lovely shorthorns into mixing some green and gold into her burnt orange frappuccino. I will try to give quarterly updates on my experiences for the duration of my stay; but be forewarned - my ultra conservative and gentlemanly values (or Sloanies as I like to refer to them) are being compromised as we speak. This is only the story of Day 1 of The Reckoning.
5 AM CST

I wound up 90 miles north of the B this past summer, trying to plant seeds of dissension at our former SWC running mate, SMU (otherwise known as the B lite, or reverse lite rather). It seems that I did not have to pull many stunts to have SMU retroactively decide they were, in fact, not in the running for the G. W. library, mainly because they felt that to have three different wings dedicated to Garfield and Peanuts , as was demanded by our fair President, was not wise from a fiscal standpoint.
SMU: Unworthy of BDP's Seed
So now it is time to embark from this land of illegitimate children and exploding propane fields and head to the land of three miles hikes in flip flops and, of course, sodomites.
Still hazy-eyed and somewhat naseuated from the 3 Rebel Yells I had taken to ease my declination of a possible return to our beloved B, I came across, what turned out to be, the most compelling symbol of my odyssey: A fork in the highway. Turning left would take me to I-45 to Houston, home of one of the meatier Bears with whom I had, er, let's say, late night Bible study sessions; and I-35 to Waco/Austin, in which I would send me straight to the heart of our overlording cow-nemeses, where I would deceive these high brow hippies into thinking that I am truly one of their own, all while discretely giving away all their secrets to my brethren at the B who were curious as to see how these savages lived. Hell, maybe I can do some recruiting down here to alleviate all the pressure on GuyMo. Win or Go Home indeed.
The Austin Police Department
As I gave a subtle gesture with my middle finger outstretched to the Fattest City on Earth and merged onto I-35, I began reminiscing about my favorite times at the B. In no particular order (except for the last being perhaps the best moment of my life)
1. Moving into Brooks
- I grew up in a town of 10,000. Nothing excited me more than the night of the Serenade, when we lowly Brooks students were able to gaze upon the glory that is the girls of Collins and the Russell dormitories. If you are not familiar with the tradition of the Serenade, drop a line to the good Judge and ask why exactly he was brought into custody in 1865.
2. Moving out of Brooks
- I can't even imagine describing how good it felt to not have to worry that a slight jostle of the ceiling might lead to a permanent contamination of my lungs. Also, I no longer had to worry about being fined or suspended for having a ... Bible study session past 6PM with a lovely young Bear coed.
3. The annual intramural games
- I am sure that had BearMeat existed circa 2002-2006, my track/softball/basketball/soccer super-team would have had the most kickass sponsor ever conceived in the history of the SLC. The underlying reason behind this was because, while we won our fair share of games, we always seemed to fall short of our goals of campus-wide glory, (Even though it seems Senior Editor Red is beginning to lose some hope). But were always sure this was our year. And our uniforms were brown and mustard yellow. Eat that Green and Gold lovers.
4. Discovering BearMeat
. Obviously.
5. October 30th, 2004
. The Day my world changed forever. Of particular note, there were more maroon shirts than green and gold, and the game was begun by the Aggie punter and kicker actually assaulting the Golden Wave band multiple times with their warm up kicks. Little did they know that the B's special teams' karma is not one to be trifled with. This game was such a monumental and emotional occasion, yet I only need a few words to express the joy that I felt: Bell to Ziegler for two. I am getting goosebumps in the best of places just writing that. 35-34.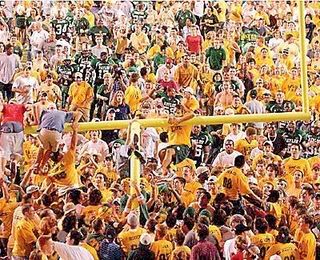 Miracle on the Brazos: BDP's Conversion Experience
5(b). Buying the "Miracle on the Brazos"
on DVD and watching it before every subsequent season.
And so, with a heavy heart and only 1/2 of my bottle of Rebel Yell left, I continued onto my destiny. Fear not loyal meats, for this story will be continued, (and I haven't even gotten to the sunrise yet!).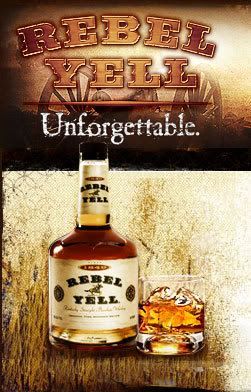 Who's Been Running Up Our Whiskey Tab? Oh, BDP Went to ATX.
Labels: BearBacker Voices (Guest Column), Summer Lecture Series 2007