Bear vs Frog: A Symphony in Three Movements
When previewing the season opener between the Baylor Bears and the TCU Horned Frogs, its easy to see such a match as being between an obscure mid-major powerhouse and a BCS conference doormat. Yet such an impression would ignore the rivalry between Texas Christian and Baylor that is currently in its third century. When we began playing TCU in 1899, they were located in Waco and the rivalry was a heated one for white Texas Protestants. The Disciples of Christ and the Brazos Baptists played for about a decade until TCU's campus in Waco mysteriously burned down. The subsequent move by TCU to Ft. Worth did not diminish the rivalry in the least. As we approach the 105th meeting between our schools, we lament the demise of the Southwest Conference in 1995 and the divergent paths our schools have taken since.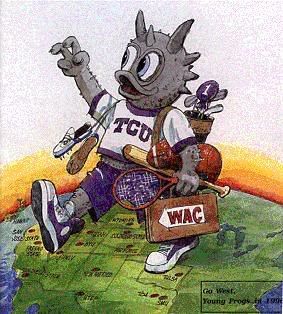 Me? I'm a travelin' frog!
Baylor grads: Doing the work Longhorns don't want to do
More than just a game, its a massacre
It is in this context that I turn my weary pen to the matchup for Saturday's game against the HornyFrogs. First off, the strategy game: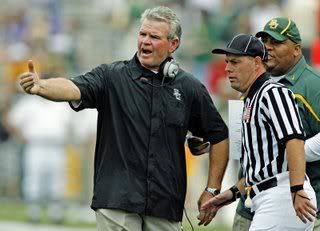 GuyMo: "Tucking in is for chumps."
Advantage: Fat guy.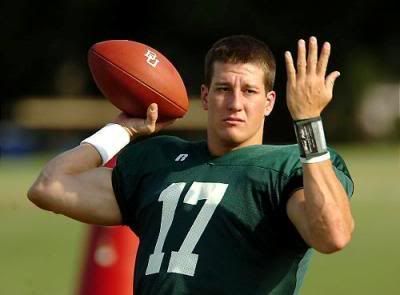 Weed: "I am mighty Hercules reborn."
For TCU, they will be starting redshirt freshman Andy Dalton, who led the Katy Tigers to the Texas Class 5A title, beating perennial contender (and serious threat to replace Baylor in the Big12) Southlake-Carroll HS. As the field general who marched his team to the 2005 title, Dalton has proven that he can beat teams much tougher than Baylor.
Advantage: Frosh Frog Wunderkind by just a nose over the 4-Ring QB Circus.
Baylor's running game was nearly non-existant last year thanks to our new pass-happy offensive system, Air Bear (or Bear Raid), devised by Lee "Desperado" Hays. This Tech-tastic system is basically the "Sam's Choice Cola" to Mike Leach's Coca Cola Classic. While we did put up record numbers in the air, our running game was the worst in D1. Thankfully, experienced back and team captain Brandon Whitiker is anchoring the backfield. Hopefully he'll get to run a few more carries per game instead of being treated as a 6th receiver.
Whatever running game the HornyFrogs have is by default superior to the Bears. You can't be worse than last.
O-Line: Red Rover, Red Rover, Let the Linebacker Come Over
Baylor: This is GuyMo's most glaring weakness. As a former All-Pro offensive lineman for the Philadelphia Eagles, he was responsible for the O-Line last year and they let the team down. Especially the last three games when it appeared that they suffered from feinting spells. This should be a strength for us, not a weakness.
TCU: Their O-Line is simply better than ours. There. We said it.
Behold, All-Pro GuyMo
Defense: Joe The Baptist vs. Tommy Blake
Baylor: Sure there is more to an entire defense that one player, but dammit, BearMeat is a blog of narrative, not a fact-intensive analysis blog. Baylor sophomore Joe Pawelek lead the team in tackles last year and made the game-winning interception against mighty Colorado. All that as a true freshman. Also, did we mention he was a catcher on the Baylor baseball team? Yeah, he's that badass. We hereby change his name from "JoePaw" (much too similar to Paterno) to "Joe the Baptist." (HT: Poseur) [Also, why did GuyMo recruit Mike Singletary's son, Matt Singletary to play for Baylor when half of the alumni want The Samurai to coach at Baylor? Was this an insurance policy of some sort for GuyMo? Questions like these keep us up at night.]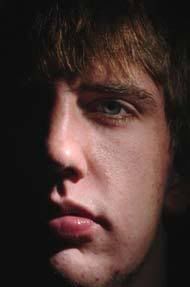 Joe the Baptist: "I baptize you with water for repentance. But after me will come one who is more powerful than I, whose sandals I am not fit to carry. [Matt Singletary - Eds.] He will baptize you with the Holy Spirit and with fire."
TCU: Tommy "Does that make me crazy?" Blake is a top NFL prospect and All-Mountain West DE. A few weeks ago he freaked out after the 11th practice and drove home to the Texas Coast - Aransas Pass. Apparently all the hype and media attention just got to his head. His mid-August meltdown was completely unexpected. Perhaps this is a sign of the madness of the Patterson regime - which we imagine to be alot like Brando in Apocalypse Now. Hopefully, if GuyMo decides to use the "advanced interrogation techniques" manual that BearMeat supplied to him and the offensive line (thanks to former intern Al Gonzales), we think we may just be able to crack this nut and send him back to the loony bin.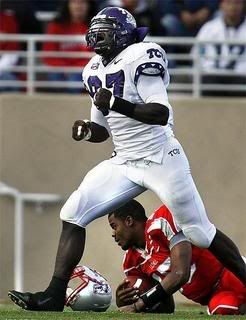 Blake: "I can has cheezburger?"
And with that, I pass the preview to my esteemed colleague . . .
______________________________

The Second Movement
A Brief History of Christianity in America or How TCU Turned Its Back on the Lord God Almighty
by Editor-in-Chief Judge Baylor
The good Lord knows that the last 12 years of Baylor football have tried Baylor's soul. As we gingerly approach yet another season in the Big 12, the offices at the Alico remain full of excitement and dread. Excitement because another year means we have yet another opportunity to exorcise our demons (Agrics) and dread because we enter our 12th season of the Big 12 with 11 conference wins. But before the fun of bearbacking through our conference schedule begins, we have a special date this Saturday with our most historical of foes. For the 105th time, 49-48-7 all-time with the B ahead by a snout, the TCU Horned Frogs greet us on the field of battle, before taking a two year hiatus from our schedule, so we can focus on more traditional and geographical rivals like UConn.
1910 - Samuel Palmer Brooks (1902-1931) v. Clinton Lockhart (1906-11)
President Brooks had longevity on his side as well as 150 lbs., but President Lockhart had speed and a knack for holding down wine and crumpets. Lockhart was spared a match-up in 1906 because Baylor did not field a team due to a far-sightedness epidemic enveloping the team that year (self-abuse once again rearing its ugly head). In 1907 Baylor and TCU played three times and hit for the cycle, a win, a loss, and a tie. Finally after two wins a piece in 1908 and 1909 for TCU, President Clinton "Opium Den" Lockhart was ready to up the ante. His offer originally was that the loser would have to be an indentured servant for a period of five years. President Sam "Poke" Brooks without hesitation agreed to the bet. After Baylor trashed TCU 52-0, Opium Den was beside himself. In an act of ultimate hubris he declared the losing school for the second game that year would need to vacate the city of Waco (at this time known as Athens on the Brazos). Brooks agreed and when Baylor held on to a narrow 10-3 victory, declared in his prepared statement for all the student body to hear within feet of the weeping Lockhart, "Like Adam and Eve being cast out of the garden of Eden, so too have you been banished from Waco forever." The TCU move to Fort Worth has often been linked to a "fire" in 1910, but that is just code for the firewater Brooks and Lockhart consumed that day.
1952 - William R. White (1948-1961) v. McGruder Ellis Sadler (1941-1965)
Presidents White and Sadler viewed each other with deep skepticism, (their fathers had served in the same regiment and were briefly married) due mostly to White's inability to say Sadler's name without laughing and Sadler not being able to resist slapping him after suffering such an indignity. Over the first couple of years this rivalry came to a head in 1952 when they both put the lives of their first born on the line. The game ended in a tie, so they sheathed their blades and vowed to never kill for sport again.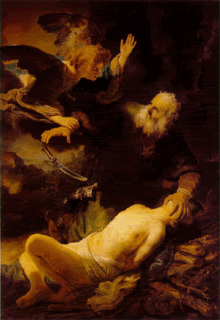 1971 - Abner Vernon McCall (1961-1981) v. James Mattox Moudy (1965-1979)
President "The Juicer" McCall and "Jim Matt" Moudy made a bet that the losing coach would be fired at the end of the season. McCall jumped at the opportunity, since Coach Bill Beall was to the SWC what Kevin Steele was to the the Big 12: box-office poison. Luckily, Baylor was able to squeak out a seven point loss and usher in the Grant Teaff era. McCall was quoted at the end of the game, "If you strike me down I will return more powerful than ever." Teaff handed McCall a 42-9 win the next year, as well as Moudy's left index finger.
1993 - Herb H. Reynolds (1981-1995) v. William E. Tucker (1979-1998)
In one of the most painful bets in Baylor history, Reynolds let it all ride on this 1993 game. Reynolds and Tucker had a good working relationship, but disagreed over which school had a superior seminary. Reynolds declared that any professor at Truett Seminary could come in and take over Baylor and the B would continue to thrive in perfect harmony. Tucker countered and stated that he could pick any grounds keeper to take over for him and TCU would be stronger for it. History has shown that on this issue, William "The Wrong" Tucker was was definitely right this one time. Baylor lost and Bobby Sloan's name was plucked from the hat. Sloan wasted no time in setting up his agenda. He quickly established that Baylor was without deviation or nuance a Sloan-version-of-Christianity university. It might be fine and dandy for the TCUs of the world, schools that once had had religious identities but turned their backs on them and now choose to worship at the feet of Victory, but Baylor wouldn't concern itself with such vulgarities. We don't want the temptations of the flesh that would be heaped upon us if we made it to the Sugar Bowl and were forced to witness the sweet debauchery of the French South.
___________________________________________

The Third Movement
FrogMeat MMVII: The Legendary Tale of the Oracle Fatty McPatterson and GuyMo GoyZa
By Editor Emeritus Guvn'r Pat Neffistopholes

[Ed. note: The following is a transcript from earlier this year of Guy Morriss explaining his first encounter with Gary Patterson. Don't ask us how we got a hold of it.]


BearDate, November 14, 1986:

Boston to L.A. No sweat, man. Cross country flights used to be grueling and just plain awful. But that was before I met Craig James and Steve Grogan. We were known as the Boston Texans. Craig and I were full blooded Texicans. "Grogs" was just born there, but with his connections to the real stars we couldn't pass up the opportunity to have him in our fold.

Grogs had all the major Boston players in his black book. One night we would be pounding cold gold with Kevin McHale at some upscale strip club; the next night we would be gambling away our week's earnings with Oil Can Boyd and Jim Rice. Bill Walton was #2 on Grogs' cordless phone. The beer was flowing, the ladies were glowing, and the city was trying to piss out the championship blues.



Enter Week 11: @ LA Rams...bonus. LA was always a fun road trip, but Craig and I knew that something special would happen. We were giddy with anticipation when Grogs got into the limo with us. "Texans, are you ready to experience the west coast like a true Patriot?" Grogs yelled out over the roar of the driver's steelpan stylings. My brain waves trembled with delight. We could be partying with anyone!...Fernando Valenzuela. Todd Bridges. Kareem. Susanna Hoffs.
"An extra special treat is in store tonight. Several years ago I met a young lad at a KSU alumni gathering and it changed my life," said Grogs. "He's a portly fella, already has a comb-over, speaks with a screechy tone, and has herpes simplex virus type 2." Grogs saw Craig and I look at each other with unease, "Texans! Am I not Steve Grogan? Driver! Davis, California. Pronto!"
Several hours later the limo pulled up next to a tiny wood hut that couldn't have been more than 500sf. The smell of rotten cabbage and decaying meats pierced the air. A crippled goat crawled out of the shadows with its untrimmed hooves curling forward like mangled elf shoes. I tried to calm Craig down. "You are the Pony Express" I whispered. His confidence grew, "Yeah. Fuck Dickerson."
Grogs rapped upon the door of the tiny hut twice and pulled out a purple pennywhistle and proceeded to play KSU's Wabash Cannonball. The second the last note rang out, that portly man with a left to right comb-over and fresh pockmarks stepped out of the tiny hut. "Texans. I would like you to meet Oracle Fatty McPatterson."
"Come in and make yourself comfortable. For a cup of tiger's blood would you care, hmm?" said the Oracle. I did not answer the portly man as I was in awe of what I had just stepped into. The tiny wood hut was no more. We were looking into a different world. The light was a shimmering gold; the rooms were expansive and loaded: long tables with assorted pastries, meats, ales, herbs, and 20 ft. high stripper poles; buck naked ladies waved huge palm leaves while doling out sweet medjool dates and mouthwatering olives. I was ready to hike the ball and pound the line.
The Oracle regained our attention. "Gentlemen, you are ready for these items not. You have only one question to answer in order to take part in the festivities that, to offer, have I. Yeesssssss. Your way over here make." Craig and I shuffled our way into another room. "Two choices, you have. Stay and enjoy what, to offer for a price, have I. Or of a lifetime of pleasures go and leave behind a night worthy."
"What's the price?" I said immediately.
"Your football career a curse on." This was quite possibly the moment I should have stepped back and thought about the decision a bit longer.
"I'll take the blonde with the bowl of Kalamatas."
"Wise choice, sir. As smooth and meatlike as the olives she bears, she is."
Craig took a lot longer to think about his choice. He was still young in his career and was coming off his best season as a pro yet. However, one look into the cat's eyes of a young brunette dangling upside down from the 20 ft. pole and the Pony Express was ready to hit the pastures. "Let's party."
And so we did. It seemed like a fortnight, yet we were there a mere 12 hours. So many images still dance in my head. Craig chasing a greased up pig while wearing nothing but an ivory codpiece. Grogs impressing the ladies with his best otter impersonations. Oracle Fatty McPatterson drawing up defensive plays in the earth's soil using a blood soaked rib from a freshly sacrificed lamb. We did not realize the price would be so steep.
With bloody, chunky tufts of animal hair still lodged between his rotting teeth, Oracle Fatty McPatterson slithered his way towards Craig and I. "My pleasure to have hosted your downfall, was it, Gentlemen. Yesssss. Young James, a curse comes forth. Your career, shortly over, will be. Be the last white running back to rush for a thousand yards in the NFL, you will. Work for Disney, you will." Brutal, man.
At that moment I put the hammer down. Nobody but me and my wife polish my turds. I slapped Fatty McPatterson around a bit until Grogs and Craig came over to stop me. I knew we would meet again.
To this day I still don't believe in the curse. Yeah, a lot of it has come true, but ol' Fatty McPatterson will get his one day. I didn't expect Ol' Fatty to switch his Purple Pride allegiance... but I thought I would never leave the purple drank behind either. Damn I love the sizzurp. The tsikuni. The Texas Tea.
Uhhh...anyway, like I said, September 1 means oyster season has begun...So I, uhhh...I'm gonna crack Fatty McPatterson and his curse open and...uhhh, eat him. Or poke him with a stick. Something to that effect. Damn that purple drank is good. I'm a football coach. GuyMo out.
Uhhh...Sic 'em Bears.
Labels: FrogMeat (TCU)