Around the Quad: Wariner Victorious
After our War & Peace-style TCU preview, the last thing you probably want to read on this Friday afternoon before the first weekend of the college football season is anything about football. We will gladly oblige.

1. Jeremy Wariner Wins World Championship in the 400m.
The
WacoTrib reports
that Wariner took home the gold in the individual 400m in the world championships in Osaka, Japan with a time of 43.45, just 0.27 seconds off fellow BU alum and mentor Michael Johnson's world record of 43.18. They don't call us QuarterMilerU for nothing. And he did it wearing the gold shoes made popular in the '96 Olympics by Johnson. We should issue a pair to every member of the BU track squad to let them know. [Great
Yahoo! Sports photo gallery
] Sic 'em Bears and U-S-A!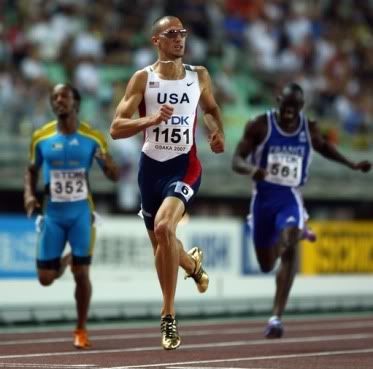 But they that wait upon the Lord shall renew their strength; they shall mount up with wings as eagles; they shall run, and not be weary; and they shall walk, and not faint. Isaiah 40:31
2. Brooks "College" Advertises Itself as Hogwarts!
Thanks to senior Australian intern Aaron Bruce for spotting this little tidbit
on the Brooks College website
that advertises that the "Great Hall" at Brooks "College" is modeled after the Harry Potter cafeteria! Here is the direct quote: "This beautifully appointed room is inspired by, among other notable great halls, the Great Hall of Christ Church at Oxford where the Harry Potter movies were filmed." Wow. Just wow. [
Click here
for our sermon on Brooks as Hogwarts and
click here
for proof that the "residential college" movement intentionally uses Hogwarts as its ideal. Wanna see a video of Brooks "College"?
Click here
.]
3. SMU: Pony Up, Mustangs, Because We're Headed to Brokeback Mountain
. What can I say about
DiscoTech!
(the excellent satirical blog that covers Tech sports)? I love those guys. Thanks to the dilligence of their 27 contributors, we are able to present the two following Mustang tidbits. The first is
the Gay Cowboy-themed party
they are hosting on their campus. No kidding. Here is the poster for "
Homo On The Range
." Guess this is how they convinced old Gay Marriage Amendment-supporting Dubya to place his library there. Seriously, maybe if Baylor had a Queer Studies program we could have secured the Bush Library bid. Guess we weren't ready for that.
On that note, here is the hilarious unofficial song of 2007 SMU Mustang football, "Pony Up," sung by a two-man band,
The Knuckleheads
. Don't thank us, thank
DiscoTech!
Great TCU Joke, if you watch
4. Matt Mosley, Oso Amigo Extrodinaire
. Thanks to our favorite ESPN reporter/blogger, Matt Mosley for promoting BearMeat's epic TCU preview (if you read it, we'll mail you a free pre-polished turd) Bear vs. Frog on his stellar
NFL blog Hashmarks
. Also, we want to thank him for puting in a good word for us with our boy Trey Wingo, whom we love dearly (though he is doing much less than Matt to promote The B on the
Worldwide Leader in Sports
).
5. Great Images of Herb Reynolds and Angela Kinsey in the Summer issue of Baylor Magazine
. You remember our
post on BU alum Angela Kinsey
(and Brian, who went to SMU), the actress who plays Angela Martin on The Office (U.S. version)? Well she posed for some photos and sat for an interview with
Baylor Magazine
. Also, the new edition has a great painting of Herb Reynolds. See below for both.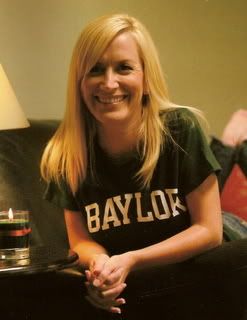 Our Office Crush
Sic 'em, Angela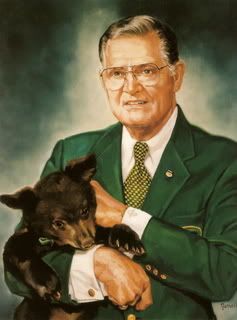 The Oso Abuelo
Labels: Around the Quad, George W. Bush Library, Hogwarts: Brooks "College"