Around the Quad: WacoTrib Copy & Paste Edition
Dear Readers:
How we love you all so dearly. All seventeen of you have kept our spirits afloat these last 13 months in ways that you couldn't imagine. While our pre-season build-up to the season has been less than stellar, remember that we, like you, are only somewhat interested in the upcoming season. With a 4-man race for QB with three weeks to go until the season begins, things seem a bit depressing over at GuyMo's Heat Exhaustion Spectacular Summer Camp. Meanwhile, with the cheerleading scandal and the opening of Brooks "College", we feel less than inspired by our school right now. However, nothing can keep our spirits down. We'll continue to soar above it all just like a Texas Black Bear who has acquired the gift of flight.
Sincerely,
Red Andrews
1. WacoTrib Contrasts Old Brooks with New Brooks
. Thanks to the WacoTrib's website, most of this blog writes itself. See their
photo gallery
on the new and old Brooks as well as their
story on the history of Old Brooks
.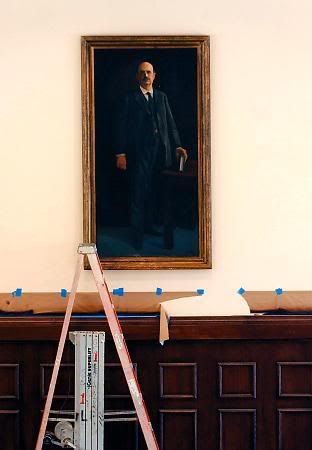 S.P. Brooks's Ghost: "I would not have signed off on this."
2. Baylor QB Race still a clusterf*@k. What is the deal with GuyMo and QBs? Remember in '05 when he put in the Tight End Parks for Bell mid-season with disastrous results? Man that was dumb. Now, he can't make up his mind between 4 QBs with less than 3 weeks to go before the season opener against his alma mater? This is no Jevean Snead vs Colt McCoy contest; we're starting to get the feeling that GuyMo is deciding between the lesser of 4 evils. Thanks to our new faux-Jamaican intern Miss Cleo, we've received the following message from the Brain of GuyMo:

"Which one of these QBs will lose the least games? Which one will do the least damage in my quest for a new contract with Baylor? John David Weed sounds the best, Machen's got the most experience, Szymanksi knows the despair of being a QB at the B, and Tyler may be the most malleable. Oh, were only Shawn Bell eligible for another year. If only my assistant coach's son, G.J. Kinne hadn't de-committed to play 4th string QB at UT. Woe is me."

You would think somebody would "take it and run by now," if you were Baylor offensive coordinator Lee Hays and seeking to cut a four-man competition to two, but you would also be forgetting that, well, you're assessing a group of quarterbacks who wound up at Baylor. Transfer Michael Machen came out of the spring in the top spot and would seem to be prefered because he's old (26), has the best size (6-6, 230) and brings the most starting experience, besides having actually chosen to come to Baylor with other options at his disposal, namely forging through a minor league baseball career or a less-muddled competition at Kent State. But no, "dark horse" Blake Szymanski, punching bag of the Bears' November collapse, has apparently moved past Machen since the start of practice last week, until suffering a high ankle sprain that keeps the door open for token "athlete" and student body/cult favorite John David Weed and redshirt freshman Tyler Beatty, described by Guy Morriss as "just a puppy." A potentially first-string puppy.

Yup, its gonna be another "wait till next year" kinda year.