Around the Quad: Rachael Johnson vs. Susie Oliver
Just a quick note to share two things:
1. Dub Oliver, Vice President of Student Life @ BU, has a terrible wife named Susie
2. She decided that she wanted to run the Spirit Program
3. Susie has no experience with cheerleading
4. They fired the woman in charge of the Spirit Program and replaced her with Susie Oliver without any warning or job search
5. Upon being hired, Susie went on vacation for 2 weeks
6. The day she got back she asked me to step down from my position as coach
7. Who knows what terrible decision she will make next Ughhhh..its so frusterating. I loved coaching and I loved my girls. I know that God has a plan in all of this and that everything will work out for good.
2. Check out this crazy myspace.com group, "
We're Baylor Bears Bitches
!"
which has great undergrad party pics and demonstrates that your daughter may not be as safe and protected from the temptations of college life as you think. For shame! Here is a very mild sample photo: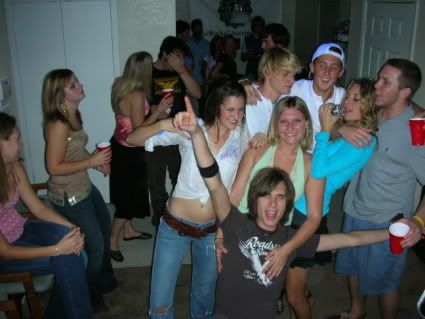 "I found myself at Baylor"
Labels: Around the Quad