Slow News Day at the ALICO
Readers,
We love you all so dearly. We apologize if some of our humor at times seems crude, offensive, or downright unacceptable. We have made our reputation by walking the thin line between terribly offensive content and good satire. If we have offended you it is out of our commitment to bringing shitz and gigglez to one and all, with the notable exception of Aggies (though they too may be entertained by our t.u. coverage).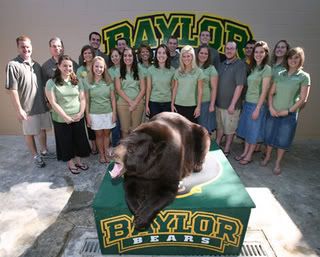 One Group That Loves Us: White Girls
With that we present a new Oso Amigo, K-State Sports & Beyond, who has recently included Baylor in their 12-part series, Tribute to Big12 Fanbases. The
link is here
. It's a little harsh and one-dimensional (reads a bit more like an indictment), but we can take it just as well as dish it out. Plus they do a good job of using images, which always counts for big points with us.
Also, CBS Sportsline releases a 10 Dirtiest [college football] Programs of All Time, which includes 4 of our traditional conference rivals (both SWC and Big12). See if you can guess who they are before clicking on
this link
. Hint: we really dislike one of the schools.
Sic 'em!
Red