Onward Baylor Soldiers: Waco We Do Recruiting
If you are not too busy
polishing turds
or
giving interviews to Texas Monthly
while driving (GuyMo!), today, I would request your attention to a most pressing matter that has weighed heavy on my heart. Today, like many Wacoans, I took advantage of
Bad Bear Liquor
's 15% discount (Tues/Wed. until 5pm) to stock up on Rebel Yell using my last remaining
Bear Bucks
. While in the store, I struck up a conversation with a few gentlemen that has got me thinking: why has Baylor let so many Waco high school prospects go to other programs? Why, just this last February, Mack Brown was in attendance at the
Waco High Football Banquet
while GuyMo was
nowhere to be found
!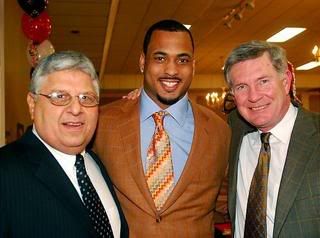 Mack Brown: "Waco We Do!"
Perhaps the most notable ommissions of the past few years have been
LaDainian Tomlinson
(TCU) and
Derrick Johnson
(UT). It has been long lamented that Baylor University was neglecting a high-school football talent cradle in failing to pursue Waco High and University High prospects. If anywhere, we should shore up our own backyard before venturing out into uncharted territory. That's not to say that we should sleep on talent in other cities, just that we need to attend to the greater Waco area in our recruiting efforts. Had LT played for Steele instead of TCU we may just have seen a 4-win season during the Steele Era. Imagine the stories we would be telling our grandchildren about how LT rushed for 200 yds in a blowout loss to Tech.
NFL MVP as an Overlooked University High Trojan
This is all to say, that I believe that GuyMo is finally realizing the extent of the local talent and how The B can't afford to lose another player coming out of Waco High or University High. Of his recent commits, at least three hail from Waco - Jarred Salubi (RB), Gary Mason (DE), and Antonio Johnson (DE). In fact, Waco High Coach Johnny Tusa remarked that GuyMo has done the best job of any Baylor coach in recruiting his players. This is definitely a step in the right direction. You know that Baylor has a natural advantage in the minds of these young Wacoans. Whether they be Lion or Trojan, who wouldn't want to play for the hometown Big12 school? Parents can attend games, friendships can continue, and no family and community ties will be broken or disrupted. Plus, it will strengthen the weakening bond between town and gown.
Waco We Do.
Onward Baylor Soldiers.
Labels: Onward Baylor Soldiers, Waco