Onward Baylor Soldiers: Embrace the Absurdity
Every so often, we at the BearMeat Editorial Board feel the need to editorialize on the meaning of Baylor fandom. In a past column, I wrote a call to arms as a defense of Baylor fandom. The post, "
Why We Fight
," was an attempt to stir the passions of the long dormant fan spirit. Lately, what has troubled us most, though, is not the lack of fan support, but its very quality. If the past 15 years have taught you anything, it shouldn't be that we are just one move away from having a national championship contender in football, but that we are one century away from having a national championship contender. Those who like to sit at their desks and polish turds all day, pretending that football and men's basketball at the B are ripe for a monumental turnaround are an embarrassment to our fans. There is nothing as sad as being a delusional fan of a losing program. What we don't need is more Pollyannas or bitter in-fighting among ourselves. What we need is pride. Some may say, "But, pride in what, exactly?" Pride in being so distinctive; pride in being Baylor University. Did you know that we happen to enjoy membership in the Big12. Take pride in that. A forthcoming series of posts will deal with the fate of the SWC teams that did not join the Big12 - a sordid tale indeed. Although we are the doormat of the Big12 in the 2 big media sports, we at least are losing on a grand stage and not in obscurity. This leads me to my point: the motto for Baylor fandom ought to be, "
Embrace the Absurdity
."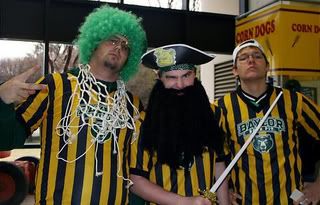 "ARRRGGGHH, Sic 'Em, Bearrrrrsss!"
Yes, Baylor athletics is an absurd enterprise. Why? We are the most explicitly religious BCS school and yet since entry into the Big12 we have had arguably the worst football program among BCS schools, not to mention a pathetic men's basketball program that has been in a decade-long decline. Our program should be consumed by study of The Book of Job's central question, the theodicy, or problem of evil. Why does God let his faithful servants suffer? Why do the heathens just south on I-35 prosper and the sodomites just north of the Red River on I-35 achieve great victories, while the devout in between them continue to suffer humiliation?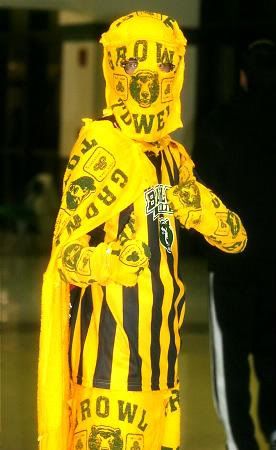 Growl Towel Man: A Fully Actualized Baylor Fan
Not convinced that rooting for Baylor is absurd? Try the fact that we have been playing football since 1899 and have the oldest and longest homecoming parade in the nation, and yet with all of that time to build a great football squad, we are hoping against hope for breaking even and achieving our first .500 season in over a decade. Even in the Old SWC, we had the lowest amount of football and basketball conference titles among all schools who entered prior to 1950. Our ratio of years in the SWC to titles was by far the lowest in the conference. Athletics at the B is a sequence of failures and near-misses, punctuated by brief moments of ecstasy.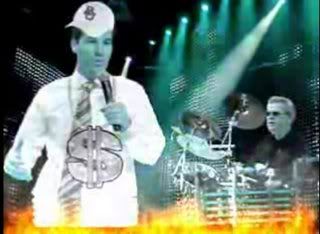 Sic 'em, Bears!
This is all to say that rooting for The B can be a much more joy-filled experience. We need to adopt the Brooklyn Dodgers fan model or that of the Wrigley Field day game crowd. Embrace the Absurdity. Its quite simple: we are who we are and we are not ashamed of that. Sure, we're gonna lose some games. In all likelihood, we're gonna lose a lot of games. But that doesn't mean we can't enjoy ourselves out there. What's not to enjoy? Watching football in one of Texas's most historic old stadiums. Having a few Big Os to get loosened up before the disappointment. Reading BearMeat after the game to help you put it into perspective. Spending quality time with friends, family, classmates, professors, co-workers, and former students and watching some of the best teams in America come into town to pummel our beloved Bears. Sure, it would be great if every year we could contend for the BCS or the NCAA Tourney, but we don't and we likely won't. That's not to say Ian McCaw shouldn't be losing sleep over how to motivate Scott Drew to grow a pair and win a road game or three, but for us fans, we need to lower our expectations by getting real about who we are and where we are. We are Baylor. Be proud of who we are. Not many schools are entering their 109th season of sport and have the type of record we do.
Just ask: "What Would Mamadou Do?"
Sure, things couldn't be much worse, but would we really know how to behave if they were? Probably not. Baylor athletics teaches us patience, humility and long-suffering. It is a character-builing enterprise. Embrace that. Embrace all the strangeness, tragedy, and heartbreak. It has made us who we are.
Baylor Bears, Embrace the Absurdity!
Labels: Onward Baylor Soldiers