Gotta Go! Gotta Go!
A couple weeks ago I visited the ever expanding concrete jungle that is Amsterdam upon Town Lake (soon to be Lady Bird Lake), aka 1960's Dallas, aka Shorthorn City. I normally do not travel outside the Alico alone, but when I do make the effort I have but two priorities.
1) Wear a collared pastel shirt.
2) Find a decent strip club.
Priority 1....check. Thank God I did not listen to Prez. Andrews and get rid of my Z Cavaricci gear. Priority 2...check. I found the local sportstalk radio station.
With sports talk radio it's always easy to find the local Gentlemen's clubs. With every five minutes of talk, there usually is 8-10 minutes of commercials. That's what makes sports talk so popular...I guess. Anyway, true story here. What piqued my interest suddenly was a commercial for the B. Yeah, Baylor is supposedly advertising in Shorthorn City on the radio.
I'll have to admit that it was a pretty dull commercial with no playful jingle. I'm fairly certain that they kept saying a phrase over and over and over. Something like "Baylor: It's What's for Dinner" or "Baylor: We Don't Have the Top Ten Percent Rule" or "Baylor: The Real Ellis Island." I don't know really. It all went by so fast and anti-climatic.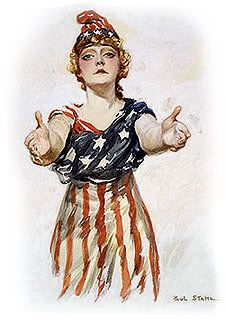 Intern Tatiana Libertad is the founder and face of our local resistance group, Alico Wool Work Society.
Anyway, immediately after the B's commercial there was an advert for a place called the Megaplex. Apparently they have videos, toys, a dvd happy hour, and promote safe sex. And upon further research, Megaplex is spelled Megaplexxx. Just found it ironic that our fair B's radio spot was followed by a hardcore porn shop's radio ad.
But here's the topper and pretty much the point of this damn post on this damn slow Friday. The next radio commercial was for this wonderful, fairy tale land strip club called Exposè. It wouldn't have mattered if this place was full of one armed strippers and $12 High Life's. The commercial jingle is absolutely brilliant/maddening.
I have been singing this damn song for weeks, and now that I have found it on YouTube I hope I can turn you onto this wonderfully penned tune. I will also pass a motion at the next BearMeat Editorial Board meeting requiring each pre-game tailgate to begin and end with the singing of this lyrical masterpiece. Enjoy. Sic 'em.
[This is a TV commercial, so it's definitely safe for work. Unless your boss and co-workers don't like a buxom blonde lip-synching while morphing into hundred of various outfits. The TV commercial is quite funny indeed.]
Labels: ALICO Building