Daily Dimebag: Weed's Competition
Thanks to a
Dallas Morning News article
on Baylor's QB contest, we now know that there are two finalists for the starting spot: The Best Weed in Texas, John David Weed, and
Michael Machen
, a 25-year old Kent State (like we need any more
tragedy
) transfer and degree-holder (he's a grad student in sports management) whose final year of eligibility was "
grandfathered"
in under an old NCAA rule (since repealed). Baylor is his fourth college, following Coffeyville Community College (KS), Kent State, and Alabama. Basically, he has lived several lifetimes already. Machen's age and college degree aren't his only advantages; he also used to play minor league baseball! He spent a combined three years in the farm systems of the Atlanta Braves and Baltimore Orioles. I'm guessing this guy also has been to war and hitch-hiked across the USA, perhaps writing a novel along the way.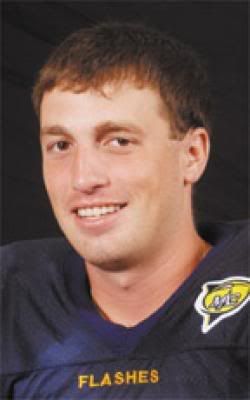 Michael "Old Man" Machen
The DMN article seems to indicate how well GuyMo has motivated his squad. The battle between the two front-runners seems close, with Grandpa holding a slight lead. According to the article:
Machen has the upper hand because of his experience. But Morriss said Weed has closed the gap this summer as he becomes more familiar with the system. As for Szymanski, he's the distant No. 3 quarterback now. "It will be a two-man race going into camp," Morriss said.
Jerry Hill's recent
article on Machen
describes his journey in detail, and reveals that the rest of the team calls him "Gramps" and "Old Man," which seems apt given that he is the only QB at the B drawing a Social Security check each month. Sounds like our boy, JD Weed, has his work cut out for him. Stay strong, Weed, BearMeat's legions stand silently behind you.
Weed at the Spring Scrimmage
They have one message for GuyMo: "We want Weed! We want Weed!"
Sic 'em!
Labels: Daily Dimebag, John David Weed