The Best Weed in Texas, Part 4: GuyMo's Weed Problem
[This is the fourth and final installment of the four-part series, The Best Weed in Texas: The Life and Legend of John David Weed, profiling one of the B's contestants for the starting QB position. A JuCo transfer who hails from H-Town, Weed's name and character are both larger than life. His name is such a godsend to our blog, that an estimated 85% of our football coverage in the upcoming season will be dedicated to elaborate drug references and puns using his name. Enjoy! - Eds.]
Did you ever have to make up your mind?

Pick up on one and leave the other[s] behind?

It's not often easy and not often kind.

Did you ever have to make up your mind?

- "Did you ever have to make up your mind?" by the Lovin' Spoonful

GuyMo Pre-Season Final Exam Question
:
1. Which of the following quarterbacks will be your starter come the season opener against your alma mater, TCU?
A) Michael Machen, 6-6, 237, Sr.-TR, Mobile, Ala.
B) John David Weed, 6-4, 214, Jr.-TR, Houston, Texas
C) Blake Szymanski, 6-4, 209, So., Wichita Falls, Texas
D) Ryan Roberts, 6-0, 212, Jr.-SQ, Keller, Texas
E) Tyler Beatty, 6-3, 200, Fr.-RS, Pflugerville, Texas
If you did not answer "B)", John David Weed, you have failed the exam.
The Mainstreaming of Weed
Since Shawn Bell's career ending injury in the 4th Quarter of the A&M game last year, The B has been devoid of a true successor to the Caesar of China Spring. Blake "The Polish Pony" Szymanski attempted to replace Baylor's all-time passing leader, but spent the rest of the season flat on his back thanks to the rapid deterioration of the O-line. Due to pass protection issues and a lackadaisical offense, we weren't able to see what The Polish Pony was capable of. However, the arrival of John David Weed on campus changes everything. Its not everyday that you have a chance to start a quarterback who has hunted The Most Dangerous Game.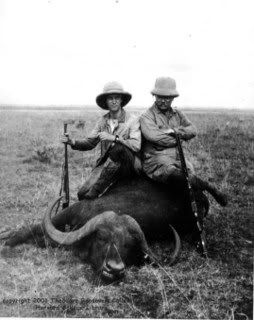 Weed, right, with hunting companion-turned-prey, Jim Bob
John David Weed is truly the Best Weed in Texas. His name, his size, his experience, and his notoriety will bring publicity to our struggling program. He attended Tyler Junior College and has declared his major as "General Studies" here at The B. What does that mean? He is committed to football; JD Weed will not let academics get in the way of leading this team. This is no scholar-athlete, this is an ATHLETE. Period. He is not here at Texas' oldest university to learn; he is here to play. [In spite of what you read on his official profile. Academic All-American? Work with us here, BU Athletic Dept!]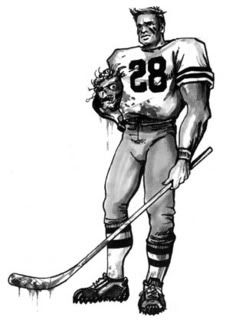 Waco Police Dept Sketch of JD Weed
You can always trust QBs with great names to produce on the field. Based on Blake's name, the only thing we are confident he can produce is a high-quality sausage. Since the pathetic loss of G.K. Kinne (GuyMo's assistant coach's son!), the competition for starting QB has been more like drawing straws to see who will be executed first. There is only one man who has the courage, the faith, and the moral temerity to face down the prospect of an 0-8 conference record and that man is John David Weed.
Give Weed the starting position. He has earned it.
Labels: Best Weed in Texas: John David Weed, John David Weed