The Best Weed in Texas, Part 1: Joining the Tradition
[Dear Readers:
This is the first in a four-part series, The Best Weed in Texas: The Life and Legend of John David Weed, profiling one of the B's contestants for the starting QB position. A JuCo transfer who hails from H-Town, Weed's name and character are both larger than life. His name is such a godsend to our blog, that an estimated 85% of our football coverage in the upcoming season will be dedicated to elaborate drug references and puns using his name. This post is the second of its kind. Enjoy! - Eds.]
The Potent Names of Texas Quarterbacks
Why Do Texas College Football QB's have names that suggest you might get shot, pregnant or intoxicated if you get near them?
Before we delve into our analysis of the Chuck Norris-like legend of
J.D. Weed
, let us first examine just what type of company he joins as a Texan QB in D1 college football in this great state. Even looking outside the state, we see another John David -
John David Booty
, a Louisiana native now at USC, has an equal claim to the Best QB Name in college football. However, for the purposes of our inquiry, we will not get into a debate about which name is superior (we have our biases), but instead will focus on the Texas context. Before we ever look into current QBs for D1 programs in the Mighty State, we must look to those who have come before and blazed the trail. We've noticed that our state tends to produce a certain type of white quarterback with a certain type of name. It usually sounds something like a cross between a pornstar, an action hero, a sherrif, and a clown. We take pride in our macho-sounding QB names down here. With that, we present a few members of the Hall of Fame.
1. Major Applewhite. The former ShortHorn quasi-legend and current offensive coordinator at Alabama (where he serves at the pleasure of Saban, as does this blog's villan, Kevin Steele), The Major's name rolled of the tongue like a character from children's literature. It is in his shadow that John David Weed now stands.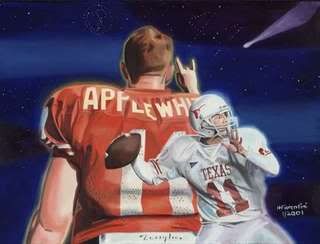 The Haley's Comet of College Quarterbacks
2. David Klingler. What a strange name. This SI coverboy's run-and-shoot college game at Houston didn't translate well at the pro level. We'll always have Houston, D-Kling.
0-10 First Season - Goodbye, Career
3. Jevan Snead
. If your last name is Snead, you're going to have enough problems with getting teased, don't go naming your child Jevan to compound his problems. For God's sake. Poor guy couldn't take the heat at Texas and is now toiling away at Ole Miss, probably getting served a Mint Julep by a dude whose grandpappy was a slave (that's what being white in Mississippi is like, right?). We did a
little post on our boy Snead
, comparing him to The Major, which might be worth your time. Or not.
"I am the Prince of the Brosephs"
Now, let us turn to our current contestants, that is, quarterbacks who currently are at the helm of D1 Texas programs.
1. Colt McCoy
. His name sounds like a six-shooter pistol or some sort of hyper-potent, man-horse who has been put out to stud to breed a new race of centaurs to quarterback a football team to some intergalactic championship. Or at least that's what first comes to mind.
McCoy was on pace to break all kinds of records last year
(and did, in fact, break a few) before K-State (check out the badass new KSU blog,
K-State Sports & Beyond
for more) slowed him down on a goal-line stand.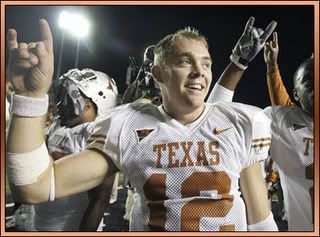 "I am half-man, half-horse, half-deuche"
2. Cole Frederick
. Frosh QB at TCU from Brenham. Another Western name that's bound to rake in the poontang in Fort Worth. We imagine him knee-deep in HornyFrog trim as we write these words. God speed, you,
young Cole
, on your sexual adventures and hunting expeditions.
3. Graham Harrell
. Texas Technical Institute's sensational QB. Another masculine name for a state dripping with machismo. I trust if
Graham
were to take a lady back to his apartment, he would seal the deal. No crying on the couch about his relationship with his father or his last girlfriend. Nope. Graham would be having unprotected sex. That's a BearMeat guarantee.
"Sorry, girl, but I'll never put rubber on my 'Graham Cracker'!"
4. John Thomas Shepherd
. Rice University. Did you know that in England "John Thomas" is a euphemism for penis? I'm sure
our boy J.T. does
. With a name that combines the male sexual organ with animal husbandry, we're surpised he's not the starting QB for the Aggies.
5. Blake Joseph and Case Keenum
. Houston basically has two badass names at QB:
Blake Joseph
(nothing more manly than the dude with two first names) and Case Keenum (that faux-alliteration gets the ladies every time). Both dudes wouldn't be caught dead at a symphony or at an ACLU meeting. Nope. Not these two.
and finally,
6. Jeff Wood
.
Texas A
ss &
M
ule. This dude is basically
a Hail-Mary-throwing erection
. No A&M coed is safe (all seven of them had better watch themselves around Mr. Wood). We assume he will most likely serve time for some bestiality-related crime. If only he would transfer to The B and compete for the starting QB position. A Wood vs Weed scenario would give us enough material to keep this blog going for about a decade.
With that, you have John David Weed's principal competition for The Uber-Macho, Phallic Texas College QB Name Contest. Please, vote on which one you think is manliest, or most likely to be charged with 1st Degree Sexual Assault.
Labels: Best Weed in Texas: John David Weed, John David Weed