BearMeatHeads Load Up The Winnebago
I have returned from my Summer abroad. My attempts to open up a Tehran BearMeat Bureau were meet with mixed success. I was warned about standing out as an American and assumed traveling by dog-driven sled with only the most understated of American flag dog collars would do the trick. It did not and I quickly realized that stone throwing is more art than science. "BearMeat is in Tehran to stay", I yelled at the one intern assigned to the Bureau, Ishmael Cohen-Goldberg, as I exited the back lavatory window of our office. Once they get their phones restored I really must give the Bureau a call.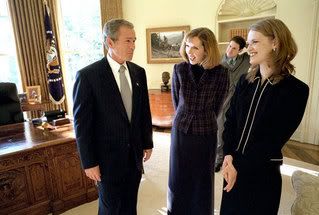 Luckily, I have returned just in time. It's July and that means it time for us BearMeatHeads to load up the BearBongs and BearSacs and tour around Texas following Guy-Mo on his
Summer Concert Series.
I look forward to this wonderful two weeks in July all year. It still amazes me that only five short years ago I had no idea Baylor had a football team. I remember it like yesterday, I was finishing up my first Ph.D., it was in Petroleum & Geosystems Engineering, and had just presented my revolutionary dissertation. It was revolutionary in two main respects, one Baylor did not have a Ph.D. program in P&G Engineering and two because its subject matter had never before been dealt with in P&G Engineering, "He-Man: Gay Anti-Hero or Anti-Gay Hero?". I knew I was on to something when I read my mother the first 1000 pages and she began to weep.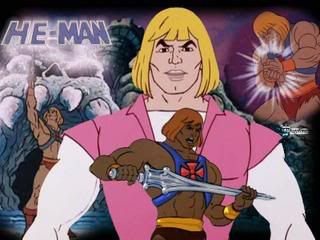 A photo from "Chapter 87: He-Man's Effect on Reaganomics".
Back to the point, in the Fall of 2003 I was hackyin' it up with the fountain people and suddenly the fountain was no
more.
I'll admit that at first we didn't notice. The fountain people often had believed the fountain had moved in the past and once believed the water was made from blueberries and flowed directly into Bobby Sloan's office on a giant mint fruit roll-up. But it was truly gone this time and for good. This left an enormous void in my life and I turned to sobriety to get me through that excruciating time period between my 11am and 12pm class. Sobriety quickly lost its appeal and I began to suckle the fermented beeswax in my dreads for a quick pick-me-up.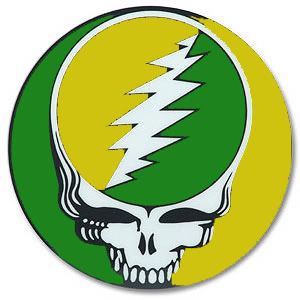 I got this tattooed on the inside of my lip.
I must have looked really bad off because even the dude who walked around with a cross on his back came up to me and said, "Share with me your burden." I was like, "Really?" And he said, "Yes, my Son", even though he was maybe 20. I immediately bolted up his cross and he staggered under the weight and dropped it. Man was he pissed and he started yelling at me. I wasn't happy about being yelled at so when he started to pick up his cross, I jumped on it like a skateboard and I think I maybe, perhaps, smashed one of his fingers under it. He then really let the obscenities fly, I mean I haven't heard cursing like this since my escort service stopped taking my checks. I knew this wasn't going to end well so I did what any decisive man would do in a similar situation, I ran and hid in the bowling alley. And that's where I saw it. It caught my eye because I hadn't seen anything like it in years. It was an good ol' fashioned cassette tape. It was labeled
Guy Morris 12-11-02.
Who was this Guy Morris?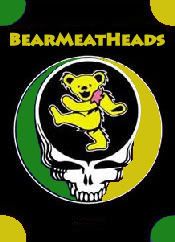 T-Shirts available for $95(legal fees for copyright infringement not included).
After I was sure Cross Man had moved on I returned to the fountain people. We loaded up into our van and put in the tape. What followed changed all our lives. The rhythm was unrelenting. The verse contagious. Without the fountain to unite us we needed a new raison d'etre and we had found it. We spent the next couple of days scavenging around used bookstores and dorms searching for bootlegs of other GuyMo performances. In no time we discovered the football team played on Saturdays and we drove the van to the Floyd and starting tailgating without really understanding what we were doing. We never actually made it into that first game, but we knew that victory was
ours.
We quickly discovered that the victory was an aberration, but the press conferences were unrelenting and regular. That is until the season ended. Suddenly we had nothing until September of the next year. Other games would need to fill the void and they did for a time, but nothing compared GuyMo appearances. We never miss them. And in the heat of the Summer GuyMo is at his purest, completely rested and ready to rock.
Top Five GuyMo Jams of All Time:
1. "Runnin' Nowhere"
2. "The Whole Team is a Special Team"
3. "P-U-N-T-E-R"
4. "This is the Year"
5. "Speed Kills...Us Again"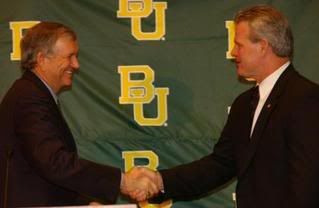 The handshake that sunk a thousand ships.
The BearMeatHeads almost have the Winnebago loaded up. Any night could be the one magical performance that we will tell our kids' nannies about.
Labels: Football, GuyMo (Guy Morriss)